South Africa's biggest and most popular social, sport and lifestyle event, the Zando Cape Town 10s has announced that Dodgeball will be added as the 4th sporting code!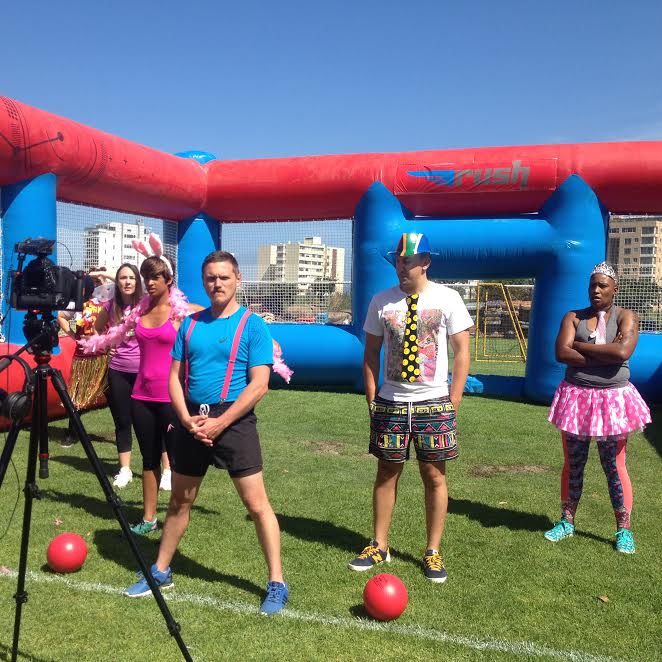 The Zando Cape Town 10s team has partnered with Dodgeball SA and Rush SA to bring Dodgeball to the 2017 offering and it's bound to be a colossal draw card and massive hit! Whether you're a spectator or sporting a team – think 'bright lumo colours, Ben Stiller, dress up and epic movie lines'.
With the event happening in less than 2 months, the team has created an ultra-cool dodgeball video which includes a snapshot of what to expect and more on the rules. The video features comedian Rob van Vuuren, re-embodied as the local version of Ben Stiller from the epic Dodgeball movie and also features cameos from some of the Mother City's most popular media personalities. Check out the video below!
The internationally acclaimed event and winner of the 2016 Discovery Sport Industry Award for 'Best Live Experience', will return to Green Point Sports Fields on 3 & 4 February 2017 and is set to attract over 20 000 people.  Squads and fans from across the globe will be treated to a number of exciting additions, including a new Title Sponsor, Zando.co.za   (Africa's biggest fashion store), who is set to add its own unrestricted signature style to the event.
Tickets are available via http://capetowntens.com/tickets and are expected to sell out in record time. Avoid the rush and snaking queues or surprise your mates with tickets for Christmas! Check out the special Zando.co.za fashion shopping vouchers accompanying all tickets purchased.
This event is overseen and managed by the Old School Group a 'really cool little sports and lifestyle business' specialising in sports tourism and these sports empowered, lifestyle festivals.
Event Details:
Dates: 3 & 4 February 2017
Venue: Hamilton Rugby Club in Green Point
Price: from R125
Tickets: http://capetowntens.com/tickets/
Website: www.capetowntens.com
COMPETITION TIME!
I have the ultimate prize to give-away to a bunch of luck guys or girls, who think they have what it takes to beat us at dodgeball. The prize includes FREE entry for your mixed team of seven people, which includes the two subs. That also means you get into the Zand Cape Town Tens for MAHALA on both days to enjoy the fun! The total prize is worth R2,500 so get entering, sharing with your friends and good luck. Here's how to enter below:
WINNER:
Scotty Collishaw Boyden