As the action sport lifestyle continues to explode both globally and locally, Ultimate X is thrilled to bring Africa's Elite Action Sport Fest, along with the best local and international athletes in each discipline, to the Mother City on Saturday the 25th February 2017. CLICK HERE to buy tickets online!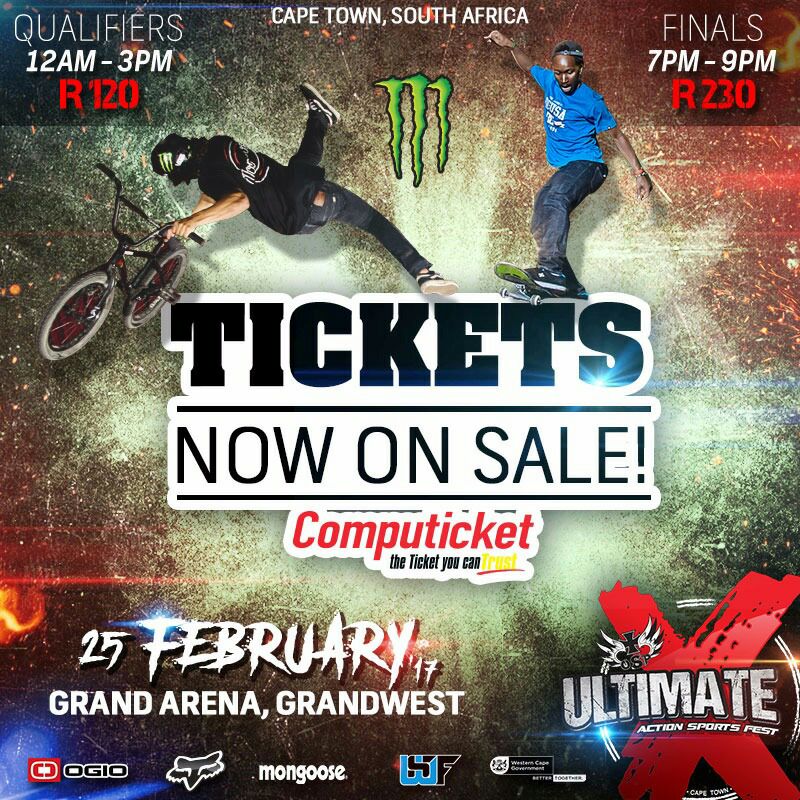 It's 9th consecutive year running, Ultimate X will once again deliver on its promise of bringing action sport junkies nothing less than a host of epic showdowns as leading BMX and Skate athletes contend for the biggest prize purse on African soil. Competing with the likes of the 2016 X Games competitor, Pat Casey – Monster Energy  / Mongoose Team Rider – the GrandWest, Grand Arena will be flipped into an adrenalin-fueled spectacle.  You can see the full list of riders in each category [here]. Check out the mad shit that went down last year in this awesome after movie below!
Forming part of the "Cape Invasion" campaign, the 2017 event is a collab with Monster Energy which will, in addition to Ultimate X, bring action sport enthusiasts a weekend of insane X events. It will include Night Harvest – an international BMX and MTB Dirt Contest, both celebrated globally, forming a must-see on the Action Sport calendar.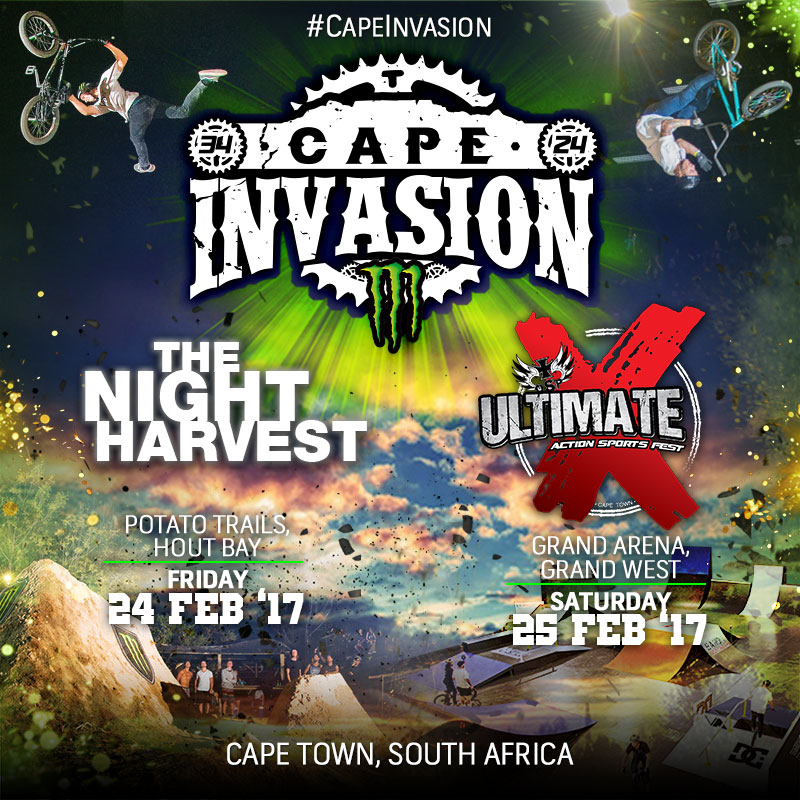 When sharing his thoughts about the 2017 event, Markus Museler said, "We're stoked to be have Monster Energy as our Presenting Partner, being such a credible brand with them looking to grow Ultimate X in becoming a focus in Action Sports Globally. Ultimate X Skate contest will include international Skaters, as well as The African Skate Championships comprising of more than 9 African countries".
CLICK HERE to buy tickets online!
Local Athlete Ambassadors Malcolm Peters – BMX and Khule Ngubane – Skate, all being Monster Energy Athletes share the same sentiment about the festival saying, "We always look forward to receiving the invite to attend Ultimate X and making our way down to the shores of Cape Town for undoubtedly the best X event of the year. The Ultimate X team always exceeds our expectations by organizing such a world-class event".
There will be two shows: qualifiers at midday and finals in the evening. To avoid disappointment, pre-purchased tickets are available at Computicket and range from R120 – R230. Food, full bar services and ample parking will be available on the day.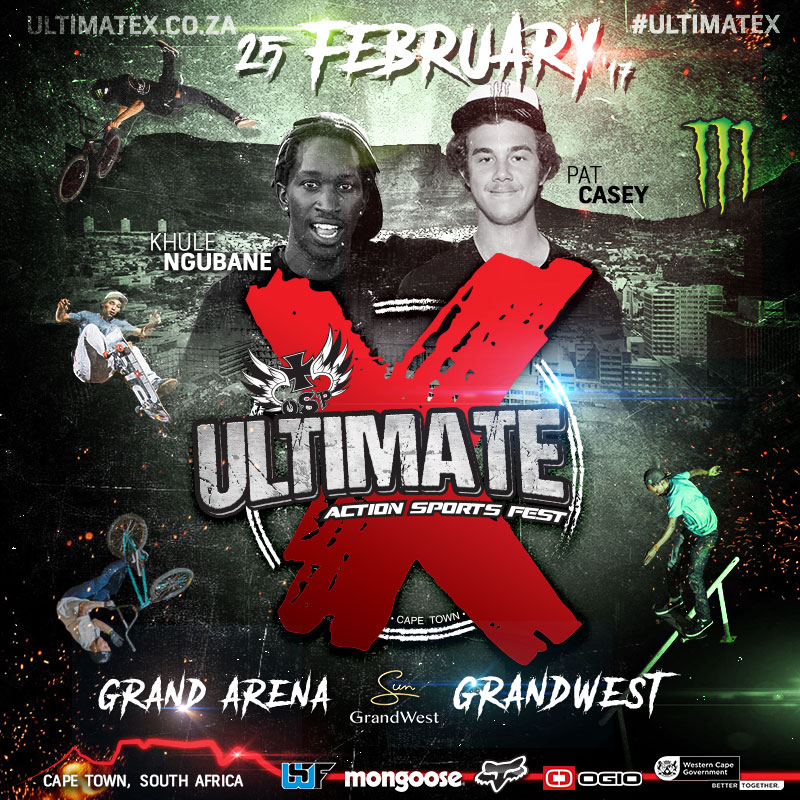 More About The Cape Invasion!
The Cape is about to get invaded!!! BMX & MTB riders flock to Cape Town from all over the globe for the craziest weekend of stunts & adventures in February!
For the past few years more and more international riders have made their way to Cape Town to attend 2 of the biggest biking competitions Africa has to offer, The Night Harvest and Ultimate X. The Night Harvest is held at the picturesque Potato Trails in Hout Bay. BMX & MTB both get their chance to throw down their best tricks on a line of 5 dirt jumps with a quarter/wall ride to end it off and then move on to a best trick comp on the massive trick jump.
This year there is a new category, the Spank SA Whip-off Champs for the guys that like to get sideways! If that isn't enough, the event, as the name suggests, is held at night with the jumps lit up which makes the riding look even more crazy than it already is! Ultimate X is an indoor park competition for BMX, Skate & FMX. Cape Town unfortunately doesn't have any international level Skate-parks, so the team set up the biggest one Africa has to offer in the Grand Arena at Grand West Casino for the weekend for the boys to get wild on! Being in the arena is ideal for spectators, sitting in comfortable seats above the park ensures you don't miss any of the action! Not only are the riders able to take part in 2 World Class Competitions, but between the tricks there is so much for them to see and do around Cape Town. Sunset Drives along Chapman's Peak, Penguins at Boulders Beach, Table Mountain and Lion's Head, Shark Cage Diving and Game Drives have been a few of the favourites in the past. Most riders live in the Northern Hemisphere, so it is also a welcomed escape from winter for them, which makes it even more appealing. Cape Town has a good trails scene, with quite a few dirt jump spots scattered around the Cape, the riders will be working with photographers and videographers to document both the tricks and tourist side of their adventure.
For a lot of the riders it has been their first time to South Africa, they have such a good time that they tell all their friends and the group gets bigger every year with new riders wanting to get the African experience. Keep the weekend of the 24th & 25th February open to get your mind blown
COMPETITION TIME!
WIN the ULTIMATE hamper including sick gear from the event sponsors, as well as tickets to the finals for you and your most wild homie in your crew! Here's how to enter below, but first the R2,500 hamper prize includes!
The Prize:
Double Tickets To The Finals
Complete Skateboard Setup
DC Shoes Merchandise
New Era T-Shirt
Mongoose Water Bottle
Fox Merchandise
Sponsors Sticker Pack
Skate Magazine
How To Enter:
Like this blog post or share it on Facebook.
Become a fan of Ultimate X and Mr Cape Town blog on Facebook.
Follow @Ultimate_X_ and @MrCPT on Twitter.
Follow @Ultimate_ and @MrCapeTown on Instagram.
Head over to [THIS POST] on my Facebook Page and complete these simple steps!
1. Like and Share the post.
2. Tag your partner in crime in the comments.
3. Tell me if you are most keen to watch Skate, BMX or FMX?
Click 'going' on the Facebook Event and invite some friends to show us some extra love. This will work in your favour!
For an additional entry Tweet the following:
WIN a R2,500 @Ultimate_X_ hamper with @MrCPT for their event on 25 February! #UltimateX bit.ly/2jV4zg8