SIP. SAVOUR. LOVE.
Join Sotano Mouille Point on 14 February 2020 to celebrate your special others, whether that be your other half, best friend, group of close friends or table of singles. Their doors are open to everyone on this wonderful day of celebrating love!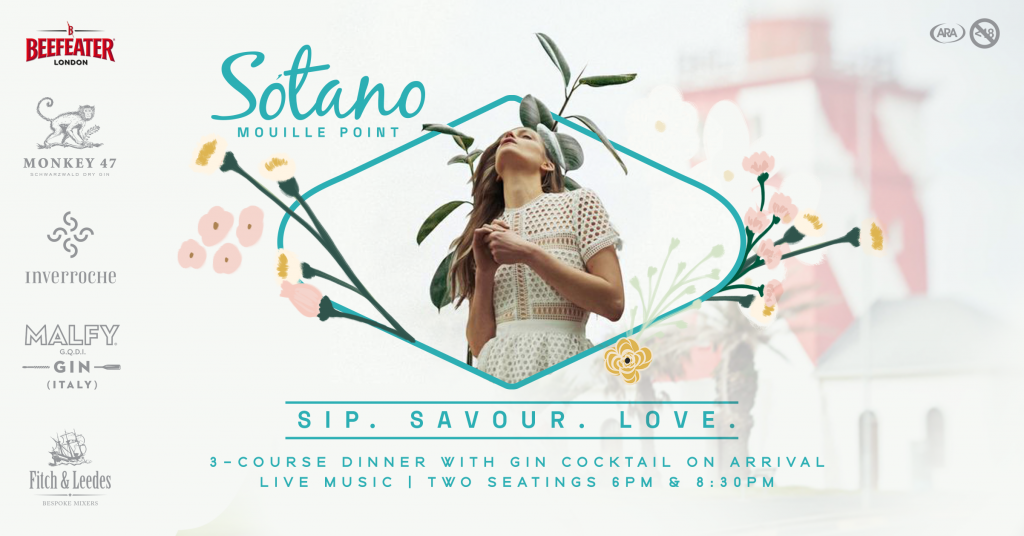 They have curated the ultimate Sip, Savour, Love style menus which will pair 3 delicious courses in a set menu with some fantastic gins from far and wide, topped off with bespoke mixers and fresh African botanicals. The gin cocktails we will be pairing with each course will be tastefully created with Beefeater Gin London Pink, Monkey 47 Gin Bar, Inverroche Distillery and Malfy Gin SA, finished off with a range of Fitch & Leedes bespoke tonics!
Please note that seating is limited, so it will work on a first come, first serve basis until they are a full house. They will have two seatings for an evening of fine dining, love, classy cocktails and LIVE entertainment to ensure the ultimate ambiance this Valentine's Day.
Seating Times
6pm & 8:30pm. Please ensure you let them know which seating time you would prefer as early seating would need to be finished by 8pm, so they can book you in accordingly. Bookings are essential!
You will be welcomed with a classy gin cocktail and canape, then be seated for your 3-course curated menu pairing.
Set Menu & Pairings
Canapés
Goats cheese and wild blueberry bites
Beefeater Pink with Fitch & Leedes pink tonic & fresh strawberries
Starters
Plate for two
Deluxe due smoked salmon, ham croquettes, fresh oysters with gin sabayon
Malfy Con Arancia, Fitch & Leedes Indian Tonic, and orange
Mains
Aged grilled sirloin ztara rub, hasselback potato, asparagus, slow roasted shallots and beef jus
Monkey 47 and Fitch & Leedes grapefruit tonic with dehydrated grapefruit
OR
Grilled crayfish tail, saffron baby boiler, chard citrus segment, exotic mushrooms, tenderstem broccoli and mussel broth
Monkey 47 and Fitch & Leedes grapefruit tonic with dehydrated grapefruit
Desserts
Plate for two
Chocolate truffle, cheesecake, fresh berries and vanilla bean custard
Inverroche Amber with Fitch & Leedes Indian tonic, pink peppercorns and orange zest
LIVE jazz will be played on the night by the resident jazz band to soften the mood.
Mouille Point Bookings
021-433 1757
info@sotano.co.za
Please note they will be taking a deposit to ensure that bookings are honoured, as this is a special day and we would like to ensure everyone is catered for accordingly.
Cost: R495 per person. This will cover all your food and cocktail pairings for the night. Service charge not included. Should you wish to purchase any extra items, that will be an extra charge on your own accord.