Alcazar is THE Cape Town New Year's Eve celebration. An upmarket extravaganza of eclectic music, mind blowing stage architecture and flamboyant performance art, brought to you by a collaboration of the city's top 3 purveyors of experiential events, Bazique Festival, Wolfkop Weekender and Sexy Groovy Love.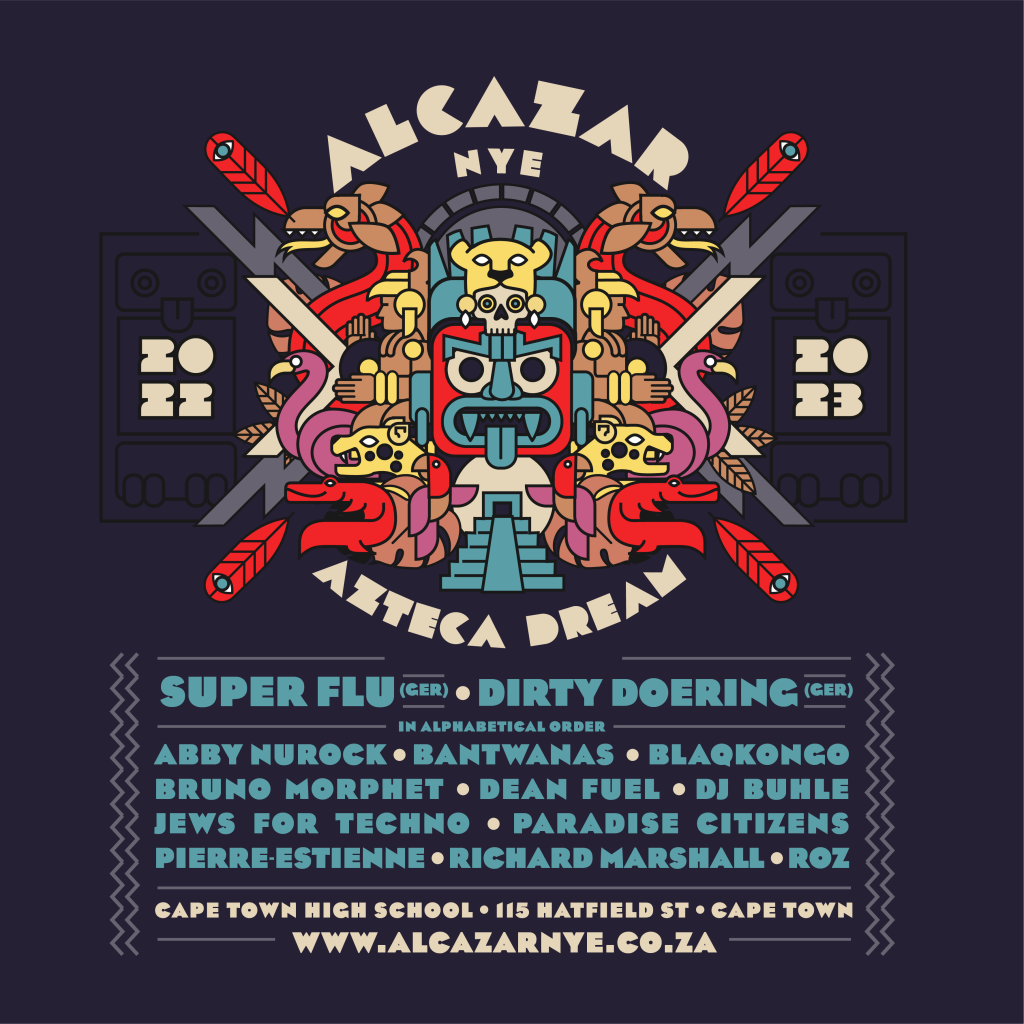 Three incredible, art immersive stages will whisk you away into a kaleidoscope of good times running until 4am, right in the heart of the city of Cape Town!
THEME: Azteca Dream
Each year the 3 story high main stage structure at Alcazar is inspired by an iconic building from around the globe. This year we delve into the ancient civilisation of the Aztecs and the Mayan palace complex of Palenque, deep in the jungles of modern-day Mexico.
At Alcazar, fancy dress is not essential… but we warmly encourage you to explore the incredible artistry of the Aztecs, or the natural beauty of the Jungle and its many creatures!
THE MUSIC ARTISTS
Super Flu
Dirty Doering
Abby Nurock
Bantwanas
Blaqkongo
Bruno Morphet
Dean Fuel
Dj Buhle
Jews for Techno Paradise Citizens
Pierre Estienne
Richard Marshall
Roz
TICKETS
The standard ticket offers full access to all the stages and attractions of Alcazar.
However, if you want a bit more than "the full package", there are also some banging VIP ticket options as well as private tables available!
TICKET LINK
THE SOUND OF ALZACAR
With three different music stages, Alcazar has a wide scope of great party music. Whether be the international headliners on the main stage, the intelligent tech house of the Wolfkop Den or the funky, Nu Disco, hip hop eclectic party vibes of the La Fee Verte ballroom, we have got you covered to have a proper twirl!
THE VENUE
Our elaborate setup will be at 115 Hatfield St, Gardens, at Cape Town High School. Come and dance all day and night at the foot of Table Mountain in a totally secure and wind protected venue!

PARKING
Parking at the venue is very limited so please make use of Uber, Bolt or a shuttle service to lift you to and from the event safely.