For those of you that know me, you would have noticed that I am still lucky enough (not) to drive a scooter, which I must admit helps a shit load when it comes to petrol and traffic. Not that I really mind the traffic in and around town, as it is never really that bad. However, I do utilise Rikkis Taxi Cabs often enough to know that there has been an extremely positive rise in the overall customer service levels!
Being the journo I am, I went to Rikkis to find out a bit about what has changed internally, and more importantly, how it all happened! Dean Roux, the Marketing Manager of Rikkis Cape Town was kind enough to let me pick his brain, which gave me a better idea about the company and what their new objectives are. It was really interesting and I would like to share his story with you. All Capetonians are VIP's (according to them) and you guys deserve to know what is changing at your favourite local transport brand 😉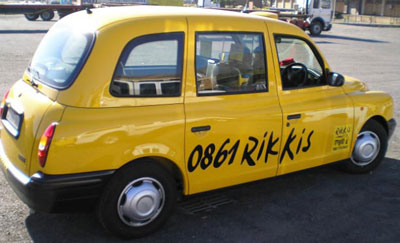 The Rikki's Story – Customer Service Is Key
I sat down with Deano at Origin Coffee last week and this is just a bit he had to say about some of the problems that they were experiencing, and, more importantly, the initiatives they have put in place to address the ever growing importance of creating superior customer service/lasting relationships.
Dean's Story
 Howsit Dyl, I would just like to say thanks for your interest in our brand and I am glad I could assist you to uncover some of the insights which helped re-ignite the passion that once burnt at this awesome company!
When joining Rikkis I was excited by the prospect of working for a great brand. I was ready to apply myself to the challenges and I was looking forward to marketing a very recognizable, local brand.
Upon realizing that Rikkis needed leadership and motivation more than marketing & sales,my operational instincts took over and I slowly started analysing each individual department using my experience to introduce new ways of improving the existing systems.

With my strive for success and reputation on the line I have rolled up my sleeves and applied myself, thoroughly enjoying the challenge. 6 months have flown by and I have found myself in a position which has always best suited my character. I tend to perform better when I am in control and this has led me to take on more responsibilities, but more importantly help the business to operate more efficiently.
In the last few months we have re trained drivers and have created an independent Rikkis workshop which service the cars regularly and keep them in good running condition. Our call centre has also been upgraded and we are answering almost double the amount of calls already!
Keep Peak Times In Mind
"Our busiest times are between 7am – 9am, 4pm – 7pm on weekdays. We are also very busy between 7pm – 10 pm on weekends so your calls may take a little longer to answer, but you must realize that the whole of Cape Town requires a taxi…We communicate value and we all know Capetonians like to save a quick buck wherever they can, that is why we have such full agendas."
There is something I would also like to clear up with you guys and girls. Rikkis offer two different versions of their ride. You can either choose the shared ride option, or the faster Rikkis Direct ride option. Because there is a bit of confusion about these two options, I thought I would get Dean's view of exactly what you can expect from each of the product offerings 😉
The Rikkis Shared Ride
The Rikkis Shared Ride option is very unique to the taxi industry. It's our cheapest, but by
no means do we sacrifice our service. Customers share a cab and share the fee with other
customers who are going in the same direction.
Because it's so popular, especially with
travellers and local Capetonians going about there normal business, it is
subject to availability and your arrival time might be affected slightly because you will be
picking up and dropping off customers along the way. It is a unique experience and a great way to
meet the locals or discuss tourist attractions with the other passengers.
The Rikkis Direct Ride
Our Direct Ride is Rikkis point to point transfer service. Call to pre book the cab and we
will pick you up at the exact time and take you wherever you want to go. The main advantage of this option is that you can be assured that you will get to yur destination on time. We offer the most competitive rates and our staff will offer a superior service.
I would like to thank Dean for all the information he provided and please watch this space soon as we may just have some awesome competitions for you soon. I am pretty sure you would all like to win some Rikkis vouchers to get you to work at no expense, fetch you at 5am from Assembly, or even just a trip down to your favourite beach and back 😉 Have a great weekend, you may just meet me in a Rikki sometime this weekend and don't forget to follow @Rikkis_Taxi_Cab on Twitter.

Contact Details
Tel: 0861 745 547
Facebook Page: [click here for link]

Website: www.Rikkis.co.za
Marketing: Marketing@rikkis.co.za
Bookings: Bookings@rikkis.co.za