The teaser trailer for the upcoming monster throw down blockbuster Godzilla vs Kong has dropped, and it looks incredible.
It has to be said right off the bat, and this movie is not going to be for everyone. But, for fans of massive monsters, kaiju, or – more specifically – enormous monsters fighting kaiju, think films like Battleship and Pacific Rim, you should check this one out.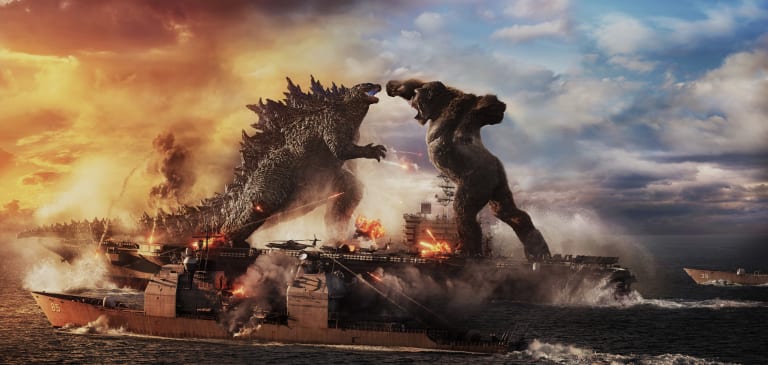 In terms of monsters, Kong and Godzilla are as big as they get. In terms of pure, intimidating size and popularity around the world in popular culture.
Godzilla first appeared in a 1954 film of the same name and has become a cultural icon since, appearing in 32 films produced by the Japanese company Toho, four Hollywood productions, and countless video games, novels, comic books, and TV shows. It has even been dubbed the "King of Monsters".
Kong is the modern interpretation of King Kong, a monster that resembles a skyscraper-sized Gorilla that first appeared in 1933 and has been seen in various media since.
Among the most notable are the 2005 video game King Kong, the six-issue limited comic series from BOOM titled Kong on the Planet of the Apes, and a King Kong board game.
There is even a King Kong slot game that can be played at no deposit bonus casinos such as Slottica and Winner Casino.
And the fantastic thing about Godzilla vs Kong is that we will get to see them fight each other for around two hours straight.
It has been a long wait for both monster franchises' eager fans after the film was delayed by almost a full year in 2020, but the release of the trailer is the surest indication yet that the release will not be pushed back later than March.
HBO Max has secured the film's streaming rights so it will be released in theatres and on the streaming platform simultaneously and it looks like it will be a true blockbuster in every sense of the word.
The film is being directed by Adam Wingard, of The Guest, and 2016's Blair Witch fame, with a script written by Terry Rossio, known for his work on Pirates of the Caribbean.
It will pick up directly after Godzilla's conclusion: King of Monsters, specifically from the post-credit scene that revealed Kong's involvement in the story and teased that there might be even more scary monsters out there than Godzilla and King Kong.
One thing is for sure, though, and that is the whole story has not been revealed yet. It isn't too far of a stretch of the imagination that Kong and Godzilla might need to team up to defeat an even greater evil.
"As Monarch embarks on a perilous mission into uncharted terrain and unearths clues to the Titans' origins, a human conspiracy threatens to wipe the creatures, both good and bad, from the face of the earth forever," teased the film's synopsis in 2018.
Among a stellar cast and crew is Millie Bobby Brown, from Stranger Things and Godzilla King of Monsters, Alexander Skarsgard, from The Strand and Rebecca Hall, Eiza Gonzalez, and Julian Dennison.
This film isn't likely to be nominated for any Oscar Awards, but for fans of good old fashion action films, this will be a breath of fresh air after a year without any significant action title releases.
If you aren't hyped about it yet or are still a bit unsure about what it is all about, go and check out the trailer below and pencil on 26 March to find out how one of the most epic battles of all time will unfold.