Strolla is kicking off summer in true style with a special Spring pool party at your favourite local, where they will launch their new Tanqueray Gin Bar & newly renovated Corona Deck! You are invited to sip on bespoke Tanqueray and Fitch & Leedes cocktails, sit back with a bucket of Corona's, dance and create a splash in the newly refurbished pool at The Peninsula.
So don't miss out, throw on your summer shorts or a bikini, pack your towel and sunscreen, and arrive early for a day of music and awesome spring vibes!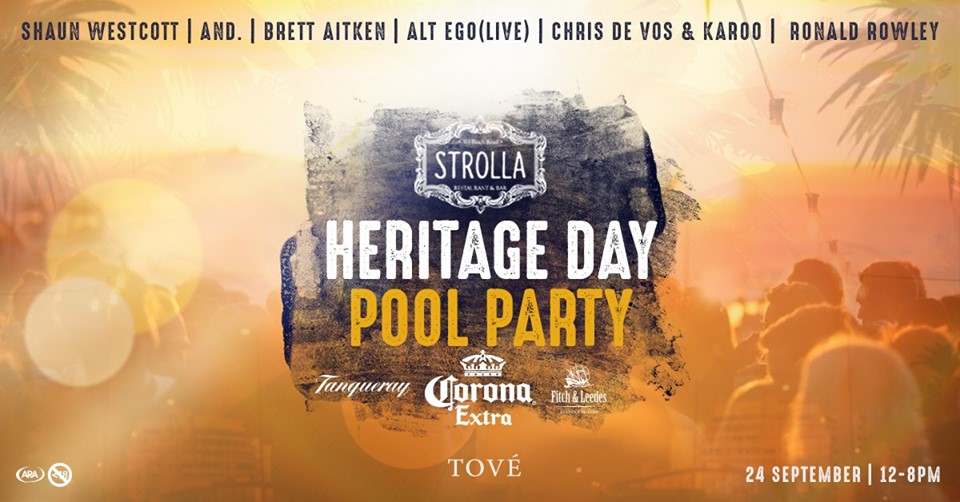 THE FOOD
Complimentary light canapés will be served between 12h00 and 14h30
A limited food menu will be on offer throughout the day (for your own account).
THE DRINKS
CORONA
Corona & corona bucket specials will run throughout the day so make sure you head to the Corona deck overlooking the pool.
NEW TANQUERAY GIN BAR
We are super excited to be launching our Tanqueray "Build your Own" Gin & Tonic Bar – get creative with botanicals and garnishes of your choice and a range of Fitch & Leedes mixers and mix up your own bespoke G&Ts!
STROLLA BAR
For all your classic Strolla cocktail and drinks favourites.

SWIMWEAR
BeachCult is Cape Town's favourite swim and resort wear brand, bringing you signature prints by local artists and illustrators in unique silhouettes.
BeachCult will be introducing their new print – prowling leopard – in a live photo shoot. The iconic print, designed by Emijl De Kock, is an ode to the mysterious animals of the night, and a portion of the proceeds will be donated to the Endangered Wildlife Trust.
Make sure you catch a glimpse of the BeachCult shoot from 14h00 & visit the BeachCult pop up on the day.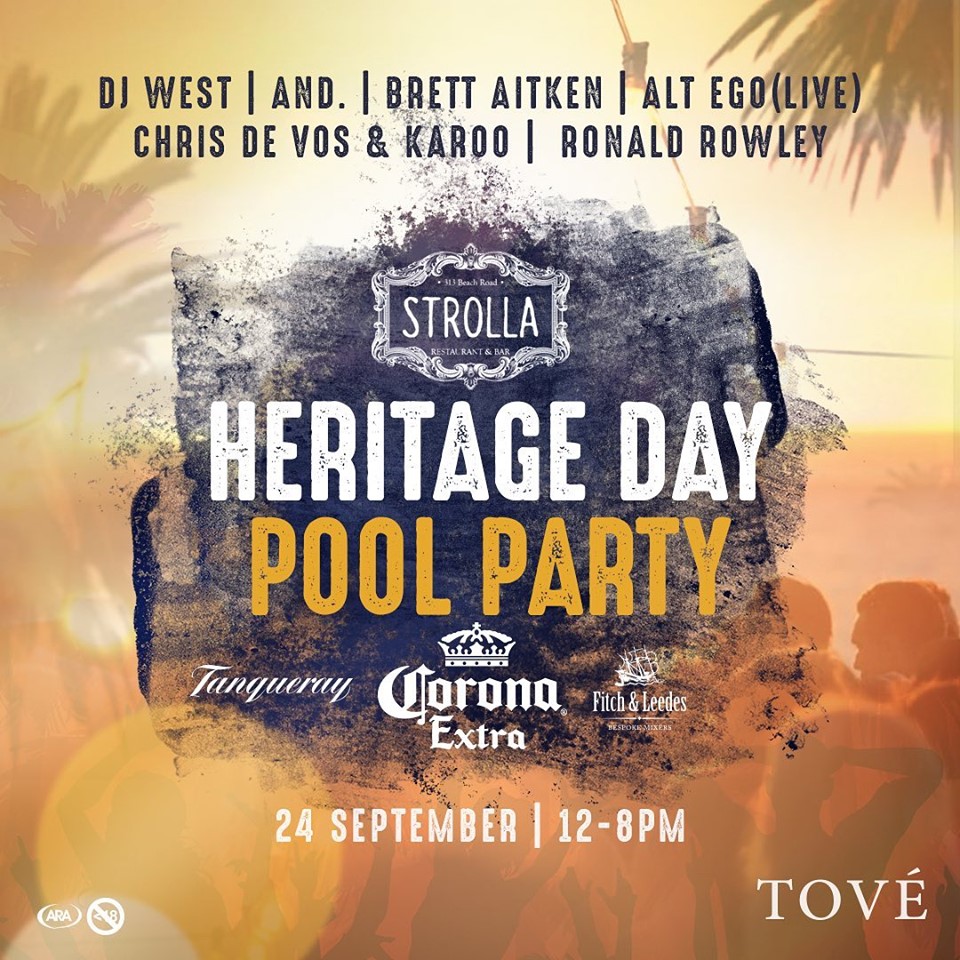 MUSIC
12h00-14h00 DJ West
14h00-15h00 AND (Anthea Scholtz & Live Cello)
15h00-16h00 Brett Aitken
16h00-17h00 ALT EGO (Live)
17h00-18h30 Chris de Vos & Karoo
18h30-20h00 Ronald Rowley

TICKETS
R150 Online
Included in ticket price is a Tanqueray or Corona welcome drink and canapés served between 12h00 and 14h30.
Tickets are extremely limited and only 150 are available (over & above invited guests). Purchase early to avoid missing out.
TICKET LINK
https://www.howler.co.za/heritagedaypoolparty

VENUE
Strolla & The Peninsula Hotel deck and pool

This is a day pool party and we suggest you arrive early and celebrate Heritage Day in style…
TIMES
From 12pm, music ends at 8pm.

TRANSPORT
There is NO parking at the venue so we encourage you to make use of Uber or Taxi to and from the event.
COMPETITION TIME
I am giving away two tickets and a bucket of Corona's to one of my lucky readers. All you need to do is follow @mrcapetown on Instagram and click [HERE] to see how to enter on my Facebook Page!
PLEASE REMEMBER
Look after your possessions.
Right of admission reserved.
THE FINE PRINT
Participation in this event is entirely at own risk. The organizers and venue accept no responsibility whatsoever for injury, death, loss or damage of any nature to persons, vehicles or belongings, even in the case of negligence. Due care has been taken to make this event safe and secure. Tickets are non-refundable. There will be filming and photography taking place at the venue throughout the event: by entering you allow organizers to make use of and publish any footage taken on the day.