The time has finally arrived – The Steakhunter Championship 2017 has officially launched and the steaks are high, literally! My local steakhouse HQ have been in the TOP 5 for the past three years, but this year with your help, we want to take the overall title. What better way to reward their local fans for voting, than an amazing VIP experience at their Headquarters worth R1,500? Keep on reading below the jump to see the prize up for grabs!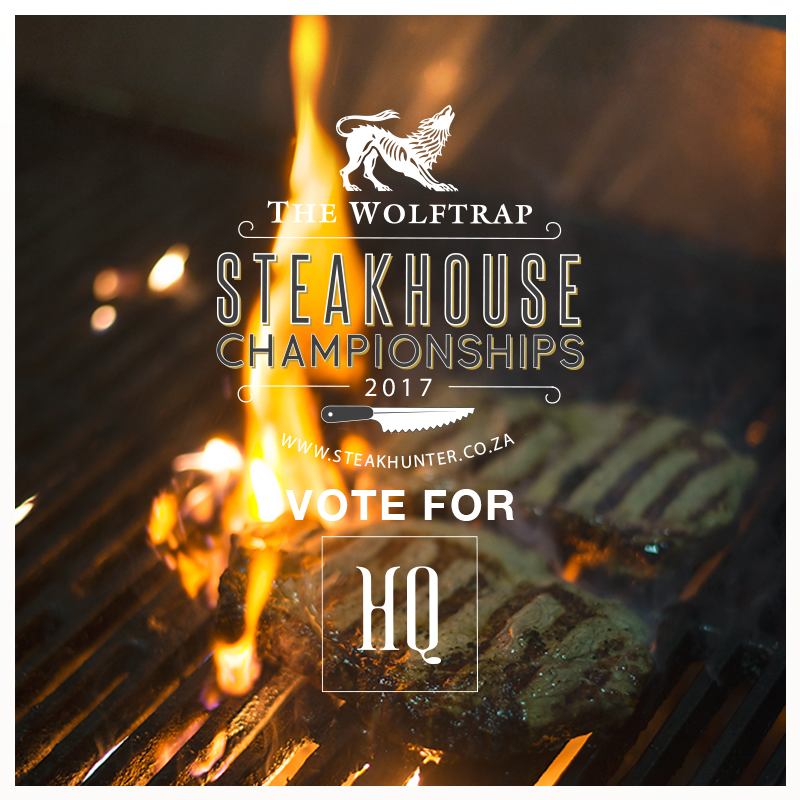 The Prize!
WIN a R1,500 experience at HQ which includes 3-course meal for four including salads, chips, 250g sirloin steaks drizzled in the famous HQ Cafe Paris butter sauce, and two bottles of The Wolftrap Red wine.
How To Enter:
Make sure you are a fan of Mr Cape Town and HQ on Facebook.
Visit http://bit.ly/VoteHQ2017 to VOTE for HQ and make sure you take a screenshot. Once you've voted, head over to [THIS POST] on my Facebook Page, leave a screenshot of your successful vote in the comments section and follow the simple instructions. You could be the lucky winner of a table for 4 and 2 bottles of the Wolftrap wine worth R1500 for your efforts! #HQSteakHunter

For An Additional Entry Tweet The Below:
VOTE for @HQCAPETOWN in the @SteakHunter Championships and stand to WIN a R1,500 experience for four with @MrCPT! bit.ly/2qydHZp #HQSteakHunter