If you can believe as many as six impossible things before breakfast, imagine what can be accomplished before brunch. HQ BRUNCH – The Sunday Social volume 2 back this March, and these fun feasts promise to be one for the books, by playing host to some of the mother city's most elite socialites.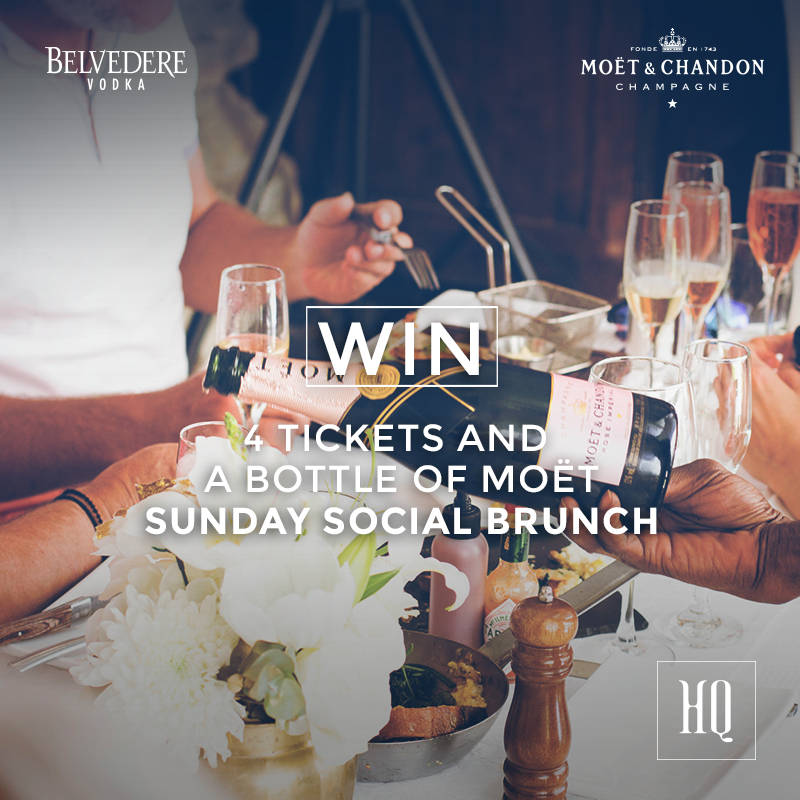 Heritage Square Courtyard & HQ will come alive to the sounds of live entertainment, while guests enjoy only the finest brunch offering, brunch wouldn't be complete without the Belvedere Vodka Cocktail & Bloody Mary stations.
Tickets are R285 per person, which includes: 
A welcome drink on arrival
Sharing platters for the table to start
À la carte mains with a choice between 4 options
Sharing platters for the table for a sweet ending

Entertainment!
Brett Aitken
Blanka Mazimela ( Live ) with guest vocalists
Thank Me Later with David Watkyns on keys & trumpet
To book your ticket, you can visit the HQ Website (http://www.hqrestaurant.co.za/contact/) and book directly through the booking system. Once you've booked your ticket please e-mail management@hqrestuarant.co.za for your table preferences!
The Menu!
Welcome Drink
HQ Mimosa with Orange Foam
Starters
– Served to share –
Fruit Skewers with Minted Honey Drizzle
Granola Pots with Berry Compote, Yoghurt & Nuts
Mini Quiche with Roasted Peppers & Chorizo
Roasted Corn, Chilli Feta & Herb Loaf with Biltong Pate
Mains
– All for yourself –
Cajun Chicken Flat Bread with Apricot Compote, Rocket and a Chilli Reduction
OR
Roasted Pork Belly Benedict
Soft Poached eggs with sliced Roasted Pork Belly Roulade, Wilted Spinach and Hollandaise Sauce
OR
Wild Mushroom Benedict
Foraged Wild Mushrooms sautéed in Café de Paris butter served with Wilted Spinach, Blue Cheese Crumble and Hollandaise Sauce
OR
HQ Prego Steak Roll
HQ's Famous steak seared Medium-Rare served with homemade Prego sauce, Marinated tomatoes and rocket on a Toasted Brioche Bun accompanied by skinny frites and Café de Paris Butter Sauce
Desserts
– Served to share –
Banana, Rum & Coconut Panna Cotta
Apple Tartlets
Belgium Waffles served with Caramelised Banana Crème
Orange French Toast with Fresh Oranges and Orange Liquor Crème Anglaise
Cocktails 
– Standard or to share- (1.5l)
Belvedere Smoked Bloody Mary served with HQ's Spice Mix
Raspberry Infused Belvedere & Pimms Punch with Fresh Fruit and Apple Juice
Belvedere and Passion Fruit Crush with Campari and Apple Juice
COMPETITION TIME!
I have teamed up with my fellow foodies at HQ to bring you the ultimate VIP experience at the first ever HQ Brunch: The Sunday Social. The prize will include all the following items below, and here's how you can walk away with the grand prize worth R2,000!
The Grand Prize!
Four tickets to HQ Brunch: The Sunday Social for you and three friends worth R285 each!
A bottle of Moet & Chandon for the table!
The total prize is worth a huge R2,000. So make sure you get your friends to enter too, so you can increase your chances of winning!
Before you enter you will need to join us on social below:
Become a fan of Mr Cape Town and HQ Cape Town on Facebook.
Follow @MrCPT and @HQCapeTown on Twitter.
Become fans of @mrcapetown and @hqcapetown on Instagram.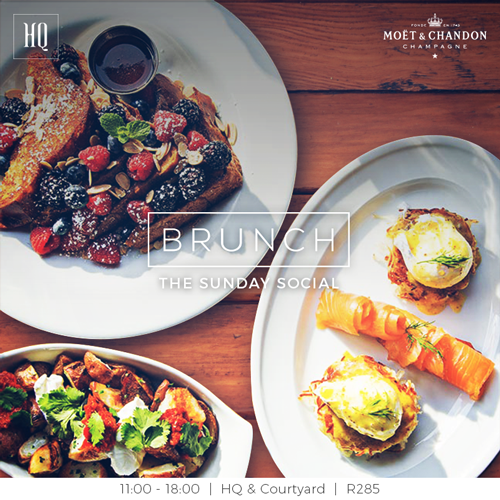 How To Enter:
Hit like on this blog post on the top left.
Head over to [THIS POST] on my Facebook Page and follow the simple steps below:
1. Like and Share the post.
2. Tag the 3 friends you want to join you and tell us why you want to attend the first ever HQ Brunch: The Sunday Social?
3. Make sure they are all fans of the above pages, and click attending on the event [here].
Tweet The Following For An Additional Entry:
WIN a R2,000 experience for 4 at #HQSundaySocial on 5 March with @MrCPT x @HQCapeTown! bit.ly/2jyrg74
WINNERS will be announced on Friday 5 March 2017!