South Africa, 31 January 2018: With Day Zero scheduled for 11 May 2018, the City of Cape Town implemented level 6B water restrictions from 1 February. This means 50 litres per person, per day. Some South Africans have shown astounding ingenuity and resourcefulness in preserving every precious drop, but, in order to be a hero and thwart Day Zero, every individual will need to play a part in getting even savvier with saving water.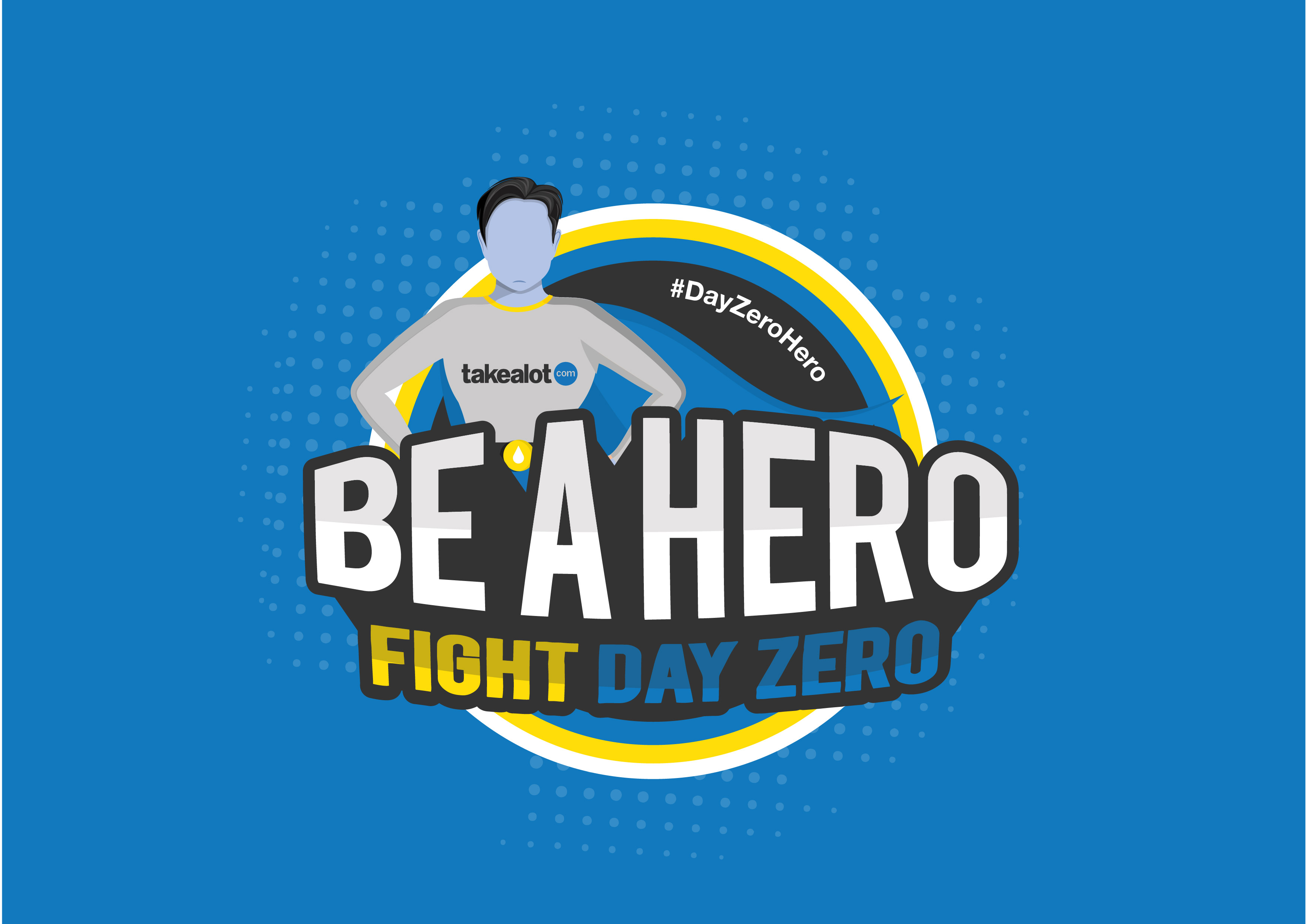 On Day Zero, the taps will be switched off, with only vital services retaining access to water. Collection points will be stationed around Cape Town, with every individual allocated 25 litres per day.  The taps will be off indefinitely, with the WWF estimating that August will be the earliest we'll see dam increases. Once new water sources (via desalination, groundwater and reclaimed water) are complete, they'll collectively produce 292 million litres of water daily – that's still insufficient for the current demand of 600 ML/day.
Julie-Anne Walsh, Chief Marketing Officer at Takealot.com, says the leading ecommerce site has set up a special water-wise store, "We want to make it as simple as possible for people to save water and get the kit and storage necessities needed to get through Day Zero and the months that follow. At Takealot, customers can find everything from tanks and taps to water and wipes – and the convenience of home delivery means less lugging of canisters, buckets and other big items from the mall. Though all our water-saving stock is currently in incredibly high demand, we are working with our suppliers to replenish lines that have sold out as quickly as possible. With fast, reliable delivery to the whole of South Africa, we can hopefully help make preservation efforts simpler and more sustainable in the long-term."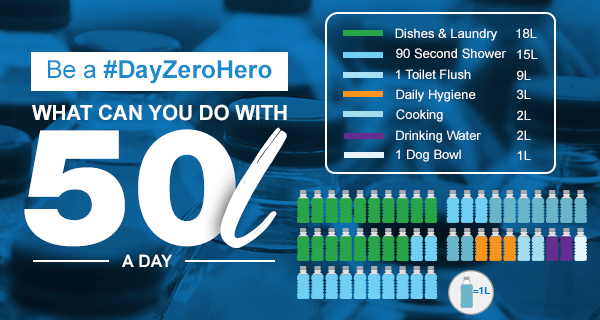 With 50 litres the new norm, here are fifty nifty ways to save water:
THE BATHROOM:
Put a shallow bucket / bowl in the sink to catch any water from the tap. Do this in the kitchen and bathroom sinks. Use this water for handwashing or to flush the loo.
Place a bucket in the shower to collect water. Consider using this water to wash clothes and then recycle it again to flush.
Be brave and take a cold shower to avoid waiting for water to heat up. If you do wait for water to heat up, collect this in a separate container to use for cooking.
Instead of a shower, have a sponge bath when possible or use wet wipes. Please responsibly dispose of wet wipes. Don't flush these.
Consider investing in a solar-powered camping shower.
Invest in a low-flow showerhead.
Limit hair washing to once a week at most. Switch the tap off as soon as you lather up and use 2-in-1 or shampoo and a leave in conditioner to eliminate the need for a second rinse. Consider using dry shampoo between washes.
If you have kids that are too young to shower, pop them all in a shallow bath or a big bucket, and afterwards, use the water for washing your clothes or flushing. Bath every two to three days, and use sponge baths/ wet wipes on alternate days.
Shower with your child.
Use apple cider vinegar as a natural way to rinse and deodorise armpits.
Insulate all your hot water pipes.
Only flush the loo when absolutely necessary.
Consider installing a dry sanitation system or use Wee Pong (or a similar product) – a flush alternative that uses a sulphur retardant to reduce malodours. Bleach or vinegar also work wonders.
Place a 2l bottle of sand or water into your toilet cistern so you still have enough water to be able to flush, but fill up the cistern with 2l less water.
Turn off the taps for the toilet so you are forced to use greywater.
Consider swopping to a dual-flush toilet. It has two flush options: a half-flush for liquid waste and a full-flush for solid waste.
Fix a leaking toilet immediately. This can save up to 22 000l a month.
Consider throwing toilet paper in a separate lined bin that you clean daily, rather than in the loo, in order to extend time between flushes. Baking soda can alleviate odours.
Don't pour greywater into the toilet bowl, rather use it to fill the cistern.
THE KITCHEN:
Wipe down plates using a spray bottle with a rinse-free dish soap and water solution. Remember, paper plates aren't eco-friendly.
Know how much water your dishwasher uses and try to avoid using it. If you do use it, fill it to the brim.
Do meal prep on Sundays for the week so that you don't have to wash lots of dishes every time you make breakfast, lunch or dinner.  Make dishes that require fewer pots and pans.
Chip the ice out the freezer and use it to water plants.
Put the mop away and vacuum instead.
If there's water left in glasses or water bottles, use it for the pets or plants or pop it in the kettle.
Get creative in the kitchen and opt for water-free recipes. Microwave veggies instead of boiling them. If you do use water, reuse it for flushing.
Think what meals you can make that won't require plates – like sandwiches or finger foods.
Wherever possible, cook foods in the oven and place tinfoil on the baking tray to avoid washing up.
Rinse fruit and veg in a small container of water (possibly rain water, sterilised with water purification tablets) and reuse this water for flushing.
Use paper towels and vinegar to wipe down plates and counters rather than a wet cloth.
Make up an environmentally friendly solution of bicarb and vinegar for cleaning surfaces.
GENERAL WAYS TO SAVE:
Washing:
Opt to wear breathable fabrics like cotton that are less likely to develop odours.
Avoid washing clothes regularly. Rather make a solution of vinegar and water or Staysoft and water to spray on clothes, then hang these up to aerate.
Stock up on extra underwear and basic T-shirts so you don't have to wash clothes as regularly.
Use biodegradable laundry powder so that this water can be used on your plants.
Catch any rinse water from the washing machine's first wash and use this to hand-wash towels and sheets. Then reuse the same water on the garden or to flush.
Don't wash towels unless absolutely necessary. Hang these in the sun to aerate and dry.
Switch to a hammam towel which doesn't have to be washed as often: they dry faster and don't take up as much space in the washing machine.
Water Collection:
Install a rain tank to take full advantage of the natural water supply when it does rain – this can be used for multiple purposes in the house. Use purification tablets to purify rainwater.
Redirect gutter water into a rainwater tank or collection bucket.
Household Maintenance:
If you're using an air conditioner, ensure you collect the water from it. It generates approximately 2l of water an hour.
Make sure none of your pipes are leaking. Fix any leaky faucets.
Other Ways To Save:
Allocate each household member a mug. That's the only one they can use for the day. Rinse these with the spray bottle only when necessary.
Use hand sanitiser instead of constant handwashing. Sanitise hands regularly.
Add flow control discs to all your taps to reduce the flow rate to 6 litres per minute.
Consider growing a beard to avoid shaving. If you shave, use a cup, rather than the tap.
Stop shaving your legs, go au natural or switch to waxing.
Use biodegradable products so the grey water is safer for reuse around the house.
Reward kids for the water-saving tips they follow.
Start building up reserves of safe drinking water. Buy bottled water; do not stockpile significant volumes of the City's municipal water supply.
COMPETITION TIME!
I have four x R500 Takealot vouchers to give away to four of my loyal readers, who are following the water wise lifestyle! Here's how you can WIN below. But first make sure you are a fan of Takealot and Mr Cape Town Blog on Facebook, and follow both @TAKEALOT and @MrCPT on Twitter!
How To Enter:
Read the 50 nifty tips to save water above and pick a few of your best that you implement at home. Then head over to my Facebook competition post [CLICK HERE] and follow the simple steps to enter!
Tweet the phrase below to enter on Twitter:
Check out these 50 nifty tips to save water and stand to WIN one of four R500 @TakeAlot vouchers with @MrCPT! #DayZeroHero bit.ly/2nJVet5
Get R150 Discount!
If you've never shopped at Takealot.com before, this is the perfect time to start. Takealot is giving first-time shoppers R150 off their first shop* – just use the code SAVEWATER at checkout before the end of February. So you can save water and save money at the same time!