My favourite race and fitness event of the year is almost here. The ticket sales for JHB and Cape Town are now open, and the final dates have been announced! I did my second IMPI Challenge in 2014, but last year was my first Elite event. I won't lie to anyone, it was the toughest, most challenging experience of my life, but I have the medal to prove I finished!

The event will be taking to Jozi first, and then visit the Mother City for two days after that! There are different categories for all levels of fitness, so don't stress if you won't make the full 20km Elite event, there is a race and distance for everyone! If you don't know what the IMPI Challenge is yet, well it's basically an obstacle course in Stellenbosch, which takes place in a vineyard. Expect a huge amount of fun, a hell of a challenge, and a cool vibe to wind down afterward! Be prepared to get down and dirty, because mud, dust, scratches, falling, climbing, slipping, running and swimming will all be part of the parcel! The event will take place over the following dates this 2015:

I will be giving away a bunch of FREE entries for the IMPI Challenge in Cape Town closer to the event, so keep an eye on my Tweets on @MrCPT. You can get your tickets [here] in the mean time, and it's a great team builder for corporates, sports teams and alike! This is a personal dare from me to enter the Elite category, which will see you conquer 20 km's and 26-28 obstacles. Go on, I bet you can't finish it? Here are the various race categories, distances and number of obstacles to expect!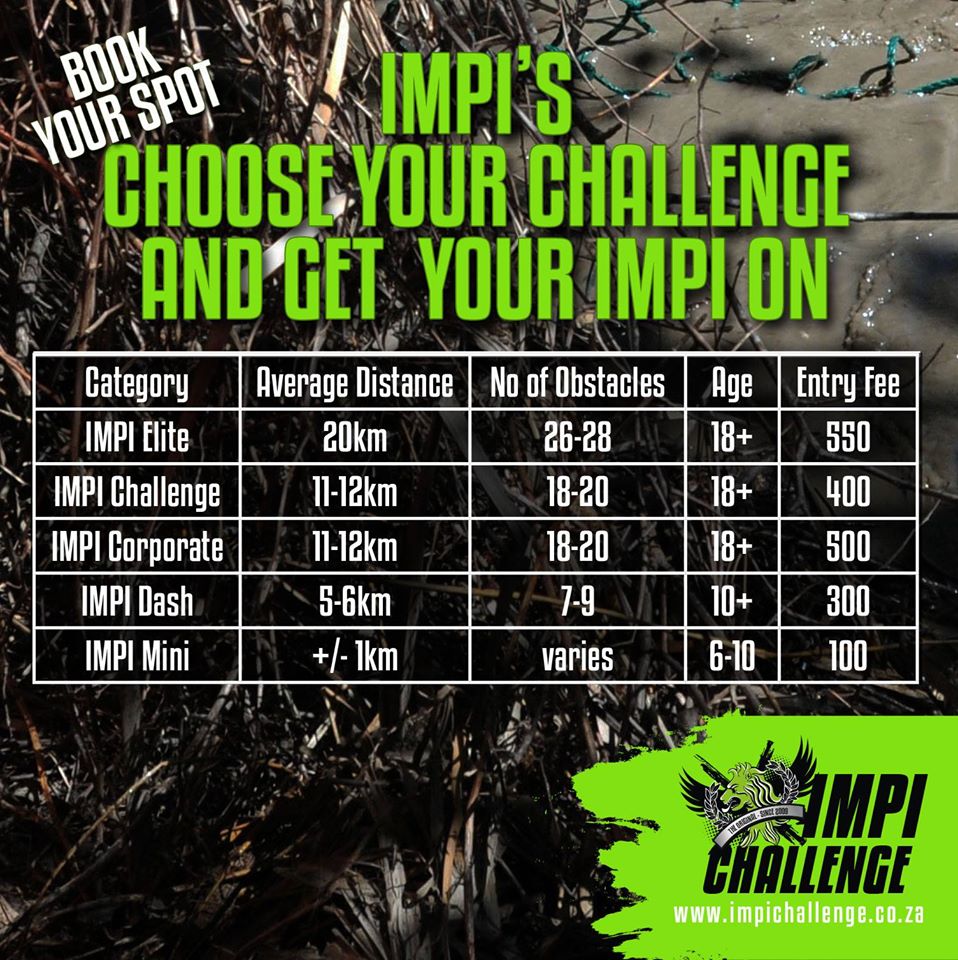 For More Information:
Follow @ImpiChallenge on Twitter, become a fan on Facebook or check out their website www.impichallenge.co.za