Defending his title for the first time Norman 'Chef' Wessels will battle it out with one of the most intense individuals in the organisation for the EFC light heavyweight championship. Saturday 8 August, Wessels vs. Dalcha, Cape Town get ready! There is loads of bad blood between the two fight camps, namely Fight Fit Militia and Dragon Power. If you don't believe me, check out the pre-fight press conference where shit went down below!
This isn't the only banger of a bout they have lined up though. One of my personal favourites Henry Fadipe goes up against the Congolese killer Kabulu, as he makes his return to the hexagon! The rest of the main card is made up of Maphutha vs Vleiger, Mdoko vs Mazany and Buirski vs Henry. You can check out all the other bouts below, with all the main card action LIVE on Supersport from 8pm on Saturday 8 August, 2015!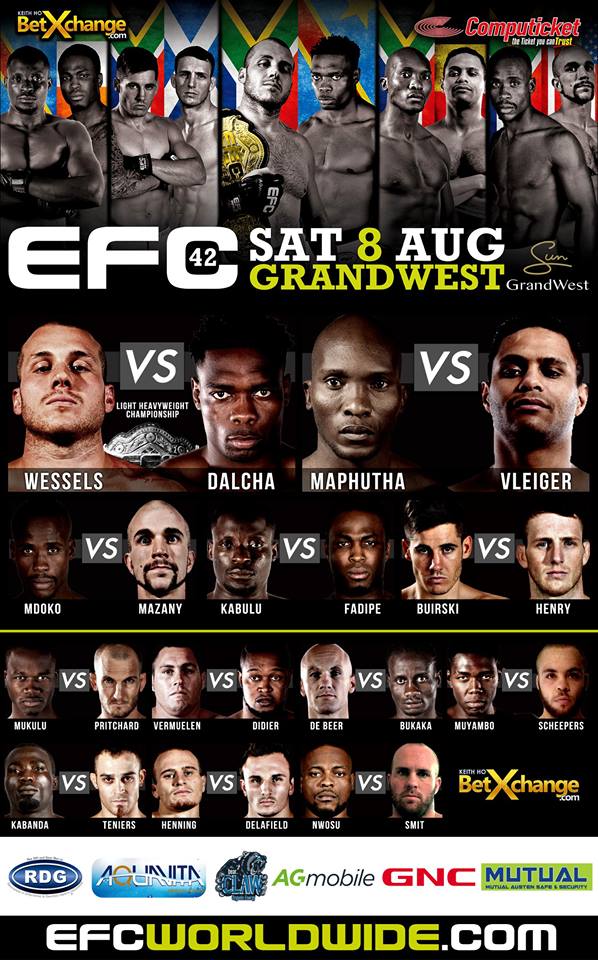 To get your hands on tickets to the much awaited event in Cape Town [click here]. To keep up with all the LIVE action from the undercard fights, follow @EFCworldwide and the #EFC42 hashtag on Twitter. I will also be down hexside for all the action, so follow me on @MrCPT for updates and some behind the scenes shots!
PREVIEW: Wessels vs Dalcha!