Have you ever been to Hout Bay and seen it? Looming above the harbour, it sits isolated and proudly perched on the mountain accessible by only one secret road. The medieval Castle, with its iconic dark turrets, is unreachable behind locked gates for all but only one day of the year.
You heard correctly lover, we have the key and we're inviting YOU to join us behind those big steel gates guarded by goblins and dragons, for an unforgettable day and night.
Get ready to unlock the mystery that is The Castle!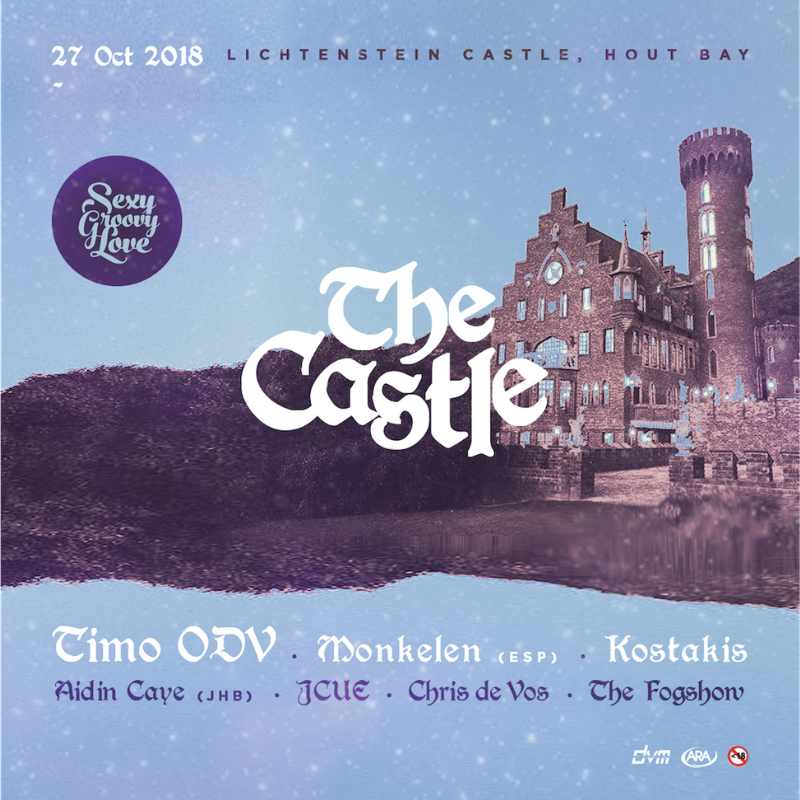 THE GROOVE GUIDE
TIMO ODV
Monkelen (ESP)
Kostakis
Chris De Vos
The Fogshow
Aidin Caye
JCue the Deep Dealer
TICKETS
Sexy Groovy Love The Castle: R550* (LIMITED)
Sexy Groovy Love Groove Pass: R1000* (VERY LIMITED)
What is a Groove Pass you ask? It's your ticket to a Sexy Groovy Love filled summer! A pass to ALL the Sexy Groovy Love events hosted this 2018/19 season:
27 October 2018 – The Castle
1 December 2018 – Back To the Jungle
2 February 2019 – The Manor of Magic House Party

* Prices do NOT include online booking fees.
Seriously one of the best parties on the Cape Town calendar. Get your tickets online at: http://www.howler.co.za/thecastle
THE VENUE – THE LICHTENSTEIN CASTLE
This venue is synonymous with history. Many have tried to peek inside and failed. Wonder no longer lovers, we have your curiosity covered. Join us and discover this exquisitely built replica of the Gothic Schloss Lichtenstein Castle, originally built in southern Germany.
SUPER IMPORTANT: The parking and drop off is at Mojo's Restaurant & Tapas Bar, Harbour Road, Hout Bay Harbour, Hout Bay, Cape Town, 7806.
NO CARS WILL BE PERMITTED THROUGH THE CASTLE GATES. ALL CARS TO PLEASE PARK AT MOJO'S RESTAURANT & TAPAS BAR, HOUT BAY, WHERE THERE WILL BE COMPLIMENTARY SHUTTLES LIFTING YOU TO AND FROM THE VENUE. WE DO ENCOURAGE EVERYONE TO PARTY RESPONSIBLY AND USE UBER.
Due to the limited access to the venue, you may experience some delays leaving the event.
Google Maps Link: http://bit.ly/SGLTheCastle
DIRECTIONS
From Cape Town head northwest on Darling St toward Corporation St
(95 m)
Continue on Plein St. Take Camp St to Kloof Nek Rd/M62 in Gardens
(2.5 km)
Follow M62 and Victoria Rd to Harbour Rd in Hout Bay
(16.8 km)
Continue on Harbour Rd to your destination
(2.4 km)
Arrive at Mojo's Restaurant & Tapas Bar, Harbour Road, Hout Bay Harbour, Hout Bay, Cape Town, 7806
THE NOT-SO-SEXY-STUFF (DISCLAIMER)
Attendees assume all risk and danger incidental to attendance of this event (in any capacity, including making use of transport provided) and release the owners of, Lichtenstein Castle, DVM Events and their employees, suppliers, sponsors or representatives from any and all liabilities, damages, costs and expenses arising from any cause whatsoever. This includes but is not limited to any damage, theft or loss of property or earnings, as well as any death or injury or damage to any person while utilising transport provided and/or within the premises of the Lichtenstein Castle before, during or after the event. Attendees are not permitted to bring their own drinks into the venue. No U21s. Right of admission is reserved.
Sexy Groovy Love – The Castle is brought to you by DVM Events.