UberEATS works with over 700 of the top restaurants in Johannesburg and Cape Town to offer people food delivered fresh and at Uber speed. Today, UberEATS and KFC jointly announce that customers in Johannesburg can enjoy their favorite KFC meals delivered right to their home or work, for the first time, through the UberEATS app.
Nic Robertson, General Manager for UberEATS South Africa says, "We are thrilled for UberEATS to be partnering with KFC, giving eaters the opportunity to order their favourite meal at the touch of a button. KFC is one of the most loved brands in South Africa, and we are so excited that UberEATS can help bring eaters the KFC meals they've so desperately craved."
From 7 June 2017 in Joburg and shortly followed by Cape Town, to be announced, eaters can enjoy those Finger Lickin' Good moments with family and friends which are brought together by the delicious taste of KFC's Original Recipe Chicken. UberEATS has partnered with restaurants across Johannesburg with an aim to include more restaurants and expand to Cape Town and additional areas soon.
Robertson added "Whether you are at home, your office or at the park, UberEATS has the Finger Lickin' meal you're craving ready to be delivered at the tap of a button."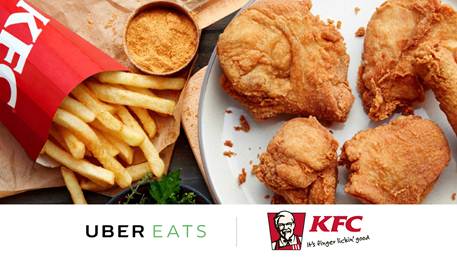 "At KFC, we are constantly looking for ways to innovate our products and services. Through our new exciting partnership with UberEATS, we are offering our customer's easier access to our products, to accommodate their busy lifestyles" said, Mike Middleton, Chief Marketing Officer, KFC.  "Effortless and quick, this partnership will ensure your favourite KFC meal is in front of you in no time."
KFC will be showcasing their most favourite items on the UberEATS app, from Streetwise 2 to Twisters, including their famous buckets and other signature meals. To celebrate this partnership, Eaters ordering through the app for the first time can use the promo code EATS-UBERMRCPT, which gives new users 50% off (a value of up to R50 per order) each of their first 2 orders.
Orders can be placed between 7am and 10pm. UberEats will start with KFC restaurants in the Johannesburg inner ring (Fourways, Randburg, Sandton and Bryanston) and will expand soon the Cape Town City Bowl. Eaters that don't see the KFC option straight away should not be alarmed, more stores will be added in the coming weeks. With the touch of a button, eaters can now order their favourite KFC meals without leaving their house or office and get all the convenience, reliability and speed they've come to expect from the UberEATS app.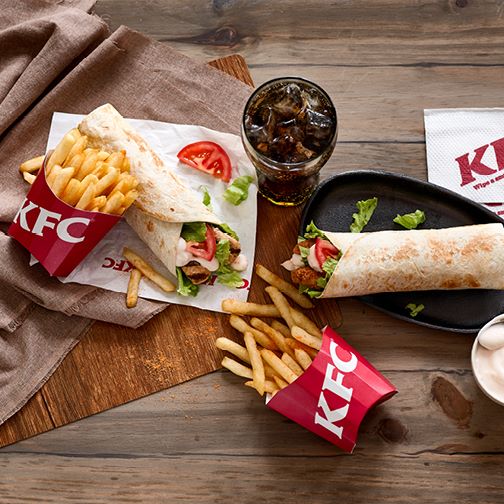 How to download the UberEATS app and order KFC
Ordering through the app is an easy process and eaters simply need to follow the steps below:
Open UberEATS  – Download the app by searching for "UberEATS" in the Apple or Android app store OR access UberEATS online by going to www.UberEATS.com
Sign in – you can use your existing Uber account for UberEATS. New to Uber? Creating an account is easy.
Pick your delivery location – Input your address where you'd like your meal delivered
Find the perfect KFC meal – Browse or search for KFC to find exactly what your tastebuds are asking for
Place your order – Pick the items you want right now or schedule your order to arrive whenever is most convenient for you
Promo code – first time users can use the promo code: EATS-UBERMRCPT which gives new users 50% off their first 2 orders (a value of up to R50 per order).
About UberEats
UberEATS is an on-demand food delivery service powered by Uber. UberEATS partners with the best local restaurants to get people the food they want – delivered faster. UberEATS is currently in over 60 cities in over 21 countries and launching more every week.
To order from the app, users must download the free application for Android, iPhone, Blackberry 7, or register for Uber at www.uber.com/go. For questions visit www.uber.com