I have been wanting to check out the Andiamo breakfast special for some time now! They are situated in the Cape Quarter and the restaurant boasts a very chilled courtyard setting under the trees. I was very happy with the table we got, especially after baking in the sun for days on end at Rocking The Daisies! The special is pretty simple. It is R20 for ANY breakfast on the menu!!! Yes you heard correctly any breakfast on the menu, and, you have up until about 11.30am to qualify for the deal. If I am not mistaken the special only runs on week days, but just go ahead and ask them like I did. They are @Andiamo_CQ on Twitter and are quite good with regard to replies.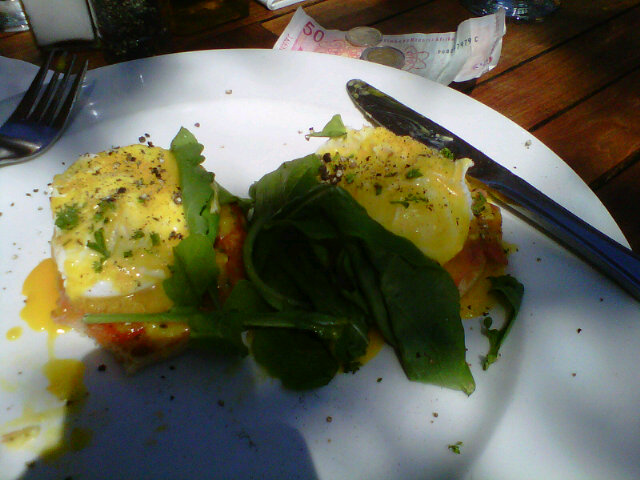 I went for the Eggs Florentine. Nothing like an English muffin, topped with smoked salmon, poached eggs, rocket and hollandaise sauce for R20!
The service was quick and our waiter Pardon was pretty rad too. The quality of the food is also amazing and I was more than satisfied with my meal. Initially we thought we may have needed two helping each but one was actually perfect 😉 I will be going to this little hidden gem a lot more often in the near future! I highly recommend this breakfast special, along with @CafeSofiaSA and @ArnoldsOnKloof for any folk seeking some chow in the Cape Town area!