I have just arrived in the office this morning and wanted to let you all see the new concept that Adidas have released, under their ever popular Superstar brand. I remember the days when I had a white pair with navy stripes and if I am not mistaken, they only set me back R250 or so…If only that is how much sneakers cost these days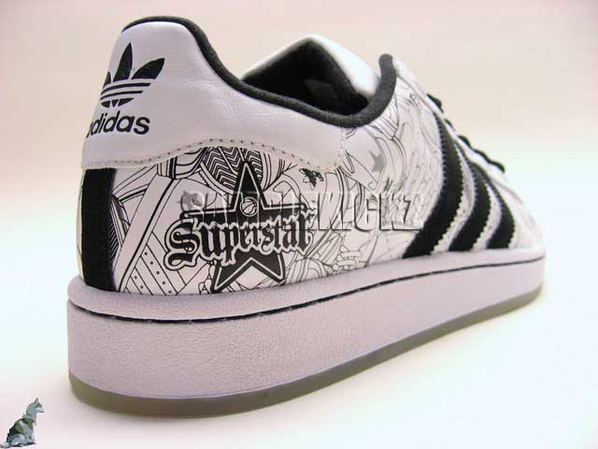 When it comes to a brand like Adidas, there is no matching their superior style, comfort or design, well maybe Nike can compete but in my mind those are the only two 'sporty' brands that catch the eye. I like Puma football kits and all, but when it comes to the whole works, there is no competition! Well, just as I was about to do this post, I saw my mate Ezra had already shared a link to these new guys on Facebook…Oh well, here they are for those of you who haven't seen this retarded range as yet.
First up are the Twitter Superstar's, I am guessing these are actually just concept versions and no one actually has a pair, well I hope not, because if you ask me they are disgusting! But hey, that is just my opinion and according to some secondary research I have done, the geeks over in Japan are very keen on getting themselves a pair. If I could actually design stuff, I would definitely put an @AdidasSuperstars message on my version of the shoe, with a little message about what my opinion of this deep new product is…To be honest, they are just a bit much for my liking, like think about Twitter shoes for a second? Ya, well if you catch my drift then we are not far off the same wave length

Next up we have a pair of the more social, more cool, Facebook Superstars! I am pretty sure Mark Z already has himself, and, his 1000 000 staff members kitted out in these new sneaks

They are more suited to the Facebook brand, taking on the social network sites colours, logo and design allowing them to be instantly recognisable. I must say, the Facebook version did catch my eye a lot quicker and allowed me to make the connection to the two brands much faster! Maybe because before I started a blog, I didn't even know how to use Twitter. I also happened to be quite a late bloomer in the Facebook realm, only adopting the usage way after the majoriy of my friends. One thing is for sure, I am damn glad I did end up joining The Social Network and not that piece of crap, Americanised version  called MySpace!
It seems that geeks are more powerful than ever now, not only creating their ultimate personalities online, but also now creating a way to stand out in the social media crowd with their new Facebook & Twitter Adidas Superstars! I was after some customer insight here and would love to hear you guys views of these outrageous new concepts? Leave a comment and give me a piece of your mind with regard to you thoughts about these cool, new socially acceptable shoes :p