It was bound to happen sooner or later 🙂 I used to live at the place, work behind the bar and still go there every Thursday for the infamous Psynopticz trance nights. The Bang Bang Club is a venue with legendary status in Cape Town and therefore is a perfect brand fit for this old school, legendary event! I remember going to the first " GODFATHER OF ALL RAVES " and my god was it a night to remember. Let's just say I got slewed to the maximum.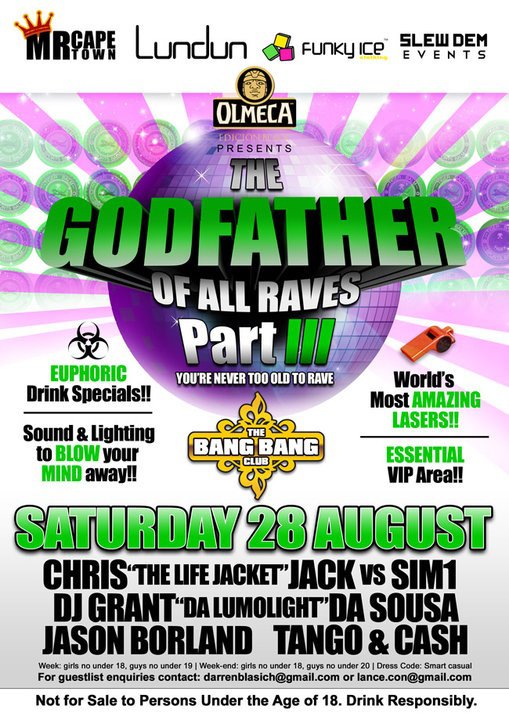 We all remember those good old (if you were old enough) Dockside,Unity and Mother Rave Parties. The good old days when your white gloves were out, glow sticks in hand, tiger balm in the other and raving the night away to the sound of Darude-Sandstorm or Paul Van Dyk-Angel. Well Slew Dem Events&Olmeca Tequila present The Godfather Of All Raves at The Bang Bang Club "Cause You Never Too Old To Rave" will be happening on the 28 August for one night only.
Dj Line up:
Jason Borland
Chris "The Life Jacket" Jack vs Sim1
Grant "The Lumolight" Da Sousa
Djs "Rave Safe"Tango vs Cash
Drink Specials All Night:
Olmeca Tequila Jugs
Olmeca Shot R14
Dbl Vodka&Redbull R44
Redbull Bull Round R95
And many more…
Special Prizes:
We have managed to hook up some great Lumo Caps from Funky Ice and some sick new Eye Wear & Caps from Lundun Sun Glasses which will all be given away during the night!
For Guest List Inquires Contact: