RUN YOUR CITY (virtually) on Heritage Day. The COVID-19 pandemic and national lockdown may have seen many of our favourite running events cancelled this year, including the 2020 FNB Cape Town 12K CITYRUN, FNB Durban 10K CITYRUN and FNB Joburg 10K CITYRUN, but the good news is that we can still run.
In fact, we can still race, and this Heritage Day, Thursday 24 September 2020, you can lace up your racing shoes along with us, wherever you are, for the new FNB Run Your City Series Heritage Day Virtual Run. Join runners from all corners of South Africa to unite (virtually) and celebrate Heritage Day in a spirit of positivity, national pride and camaraderie. Entries close on Tuesday 22 September, but if you get your entry in now, you'll have even more time to train for the big day!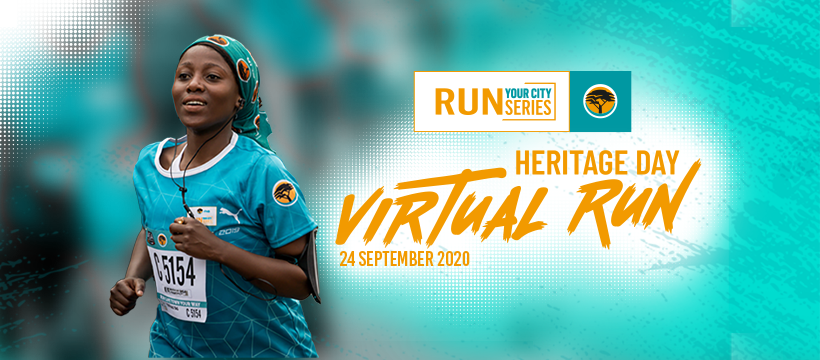 GREAT VALUE FOR MONEY
Each entrant for the FNB Run Your City Series (RYCS) Heritage Day Virtual Run will receive an event Race Pack valued at R300, including:
FNB RYCS Limited Edition Event Performance Tee
FNB RYCS Race Number
FNB Socks
Participants residing in South Africa will collect their Race Packs from the Pargo pick-up location selected during the entry process. If you enter by Monday 14 September 2020 or are one of the first 15,000 entries, your Race Pack is guaranteed to be ready for collection before race day. (If you enter after this date, you will still receive your race pack, but there is no guarantee that it will arrive before race day.)
ENTER NOW
The FNB Run Your City Series Heritage Day Virtual Run is going to be the best way to celebrate Heritage Day with your running shoes on, so click the button below to add your name to the starting list, and we'll get your Race Pack to you soon!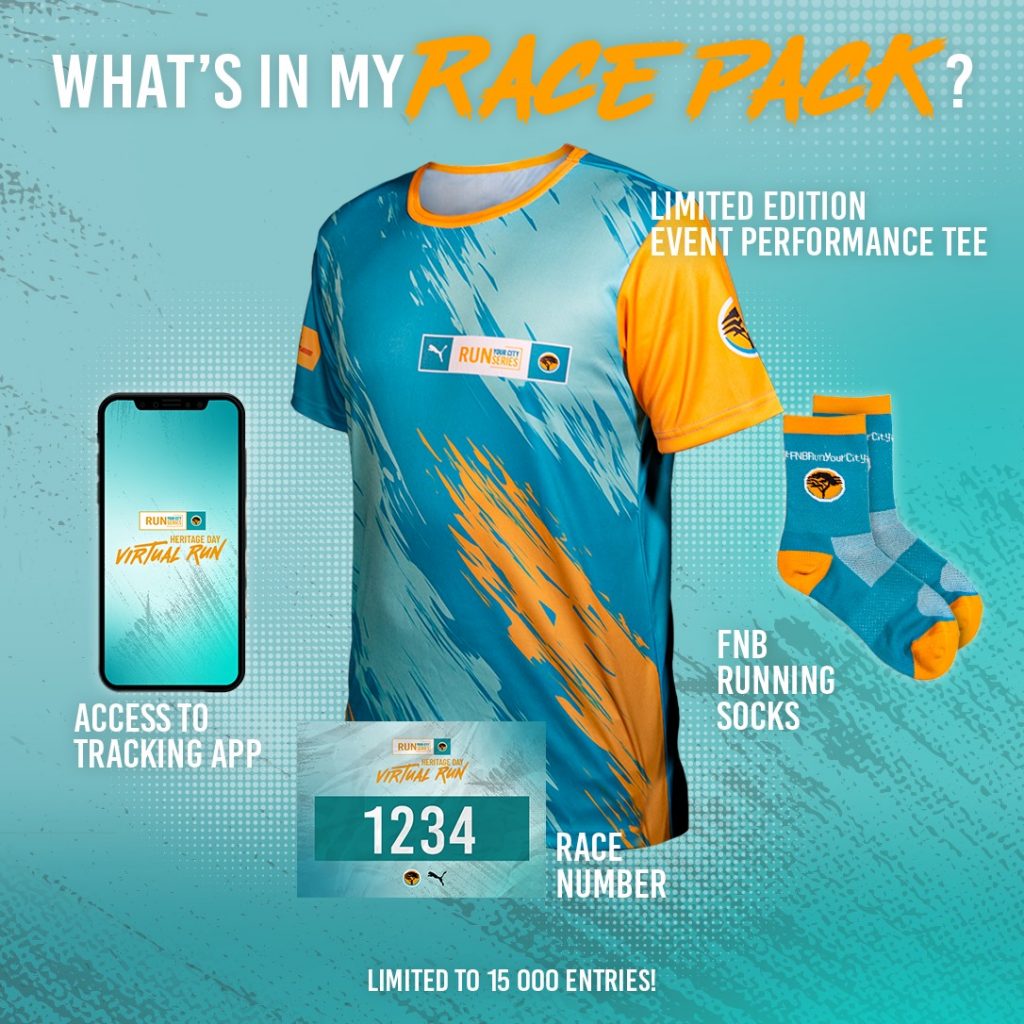 REAL-TIME TRACKING
No matter where you are in the world, take on the FNB Cape Town 12K CITYRUN course, or the FNB 10K CITYRUN courses in Joburg or Durban, using the dedicated Run Your City Tracking App, which will be available to download from the Google Play and App Store from Monday 21 September 2020.
The app will track your progress on your actual route that you run on race day, while showing your 'virtual position' on the Cape Town, Durban or Joburg event routes. The app will also be providing real-time tracking of splits, overall position and ranking on the leader board as you compete against other virtual runners. Final results will be shared to the app as well as the event website, and all finishers will receive a digital finisher's medal and certificate. (More event info at https://runyourcityseries.com)