In 2015 I saved over R4,000 on Shark Cage Diving, massages and most notably dining out with what can only be described as the best investment you will probably ever make! Over 1,540 Buy One Get One Free offers for wineries, dining, leisure, attractions, beauty, fitness and more in Cape Town, Durban, Johannesburg and Pretoria! Their newest product, More SA is included FREE with 300 offers for accommodation, dining and leisure to enjoy while travelling across the nation. Save up to R 1.26 million in 2016!
Make sure you fill in the promo code MRCPT in the bottom left corner when you add the products of your choice to your cart. You can purchase either the app, or the book version and get from R50 discount!
CLICK HERE to purchase the app and remember to fill in my MRCPT promo code in the bottom left corner to SAVE 10%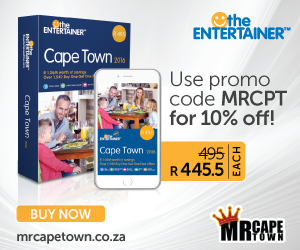 Press Release:
The Entertainer has launched their range of 2016 products – Entertainer Cape Town 2016, Entertainer Durban 2016 and Entertainer Johannesburg & Pretoria 2016 – containing thousands of Buy One Get One Free offers for the best restaurants, cafes, nightspots, attractions, leisure activities, sports, spas, beauty salons, wellness centres, hotel accommodation and so much more.
This year all three South Africa products include More SA, a new bonus holiday supplement with over 300 exclusive Buy One Get One Free offers for hotel accommodation, lodges, golf resorts, tours, activities dining and much more across Kwa Zula Natal, Western Cape, Gauteng & A Little Bit More.
The Entertainer Cape Town 2016 includes over 1,540 Buy One Get One Free offers for the best restaurants, bars, informal dining, attractions, leisure activities, spas, salons and more – with total savings of up to R 1.26 million.  This year sees the launch of the new Wineries section featuring offers for dining, wine tasting and attractions at over fifty wine farms in the region. New merchants include Nando's, Casa Del Sol, Da Vincis on Kloof, Langaro Lifestyle Centre, Cattle Baron, Bugz Family Playpark and hundreds more. Old favourites include Blues, Knead, HQ, Grand Africa, Aquila, Suntra, Cape Wheel and many more that are back for 2016.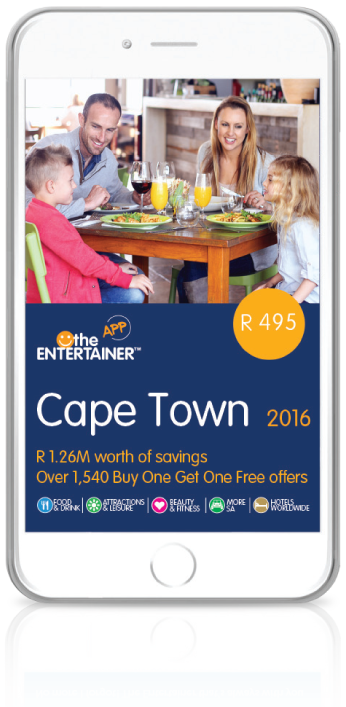 The Entertainer Durban 2016 is back for its second year and has already grown to include over 1,120 Buy One Get One Free offers for popular merchants including Butcher Boys, Bar Ba Coa, Stretta Cafe, Chilli Plumb, Chez Nous and many more – offering customers savings of up to R 1.13 million.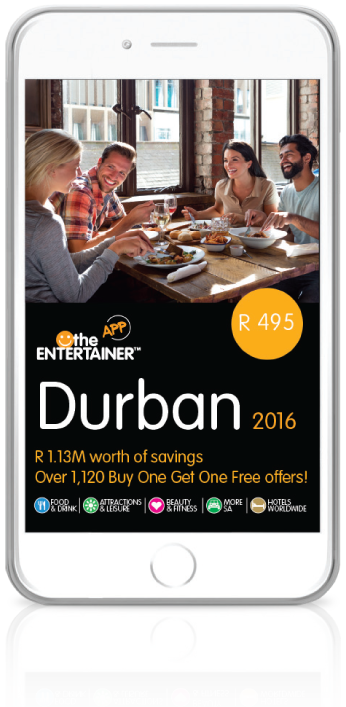 The Entertainer Johannesburg & Pretoria 2016 is the biggest product with over 1,630 Buy One Get One Free offers and savings of up to R 1.23 Million this year. Exciting new additions include L'Opulence, Hardrock Cafe, Moyo Melrose Arch, Assaggi, Nando's and Vovo Telo to name a few. Returning favorites include The Raj, Meat Co, Knead, Piza e Vino and hundreds of others that are back for 2016.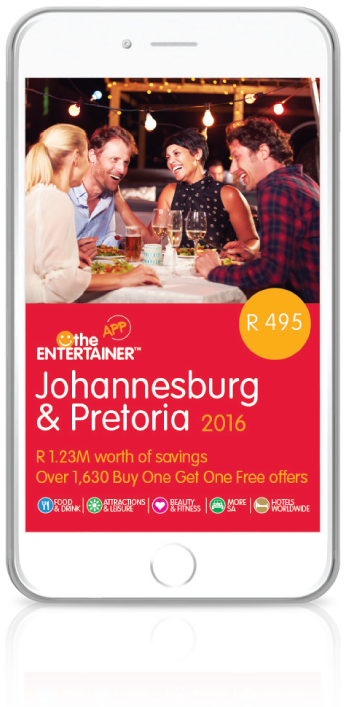 As well as More SA, customers who download the Entertainer app can also receive the Entertainer Travel 2016, which features over 300 'Buy One Room Night, Get One Free' offers in hotels throughout the Middle East, Africa, Europe, Asia & Indian Ocean as well as North America! This fantastic product includes international hotel brands such as Fairmont, InterContinental, Shangri-La, Hyatt, Radisson, Sofitel, Sheraton and many more.
The Entertainer 2016 products only cost R495 and customers can choose between printed books or the Entertainer App.  The App offers customers a host of advanced features including location-based search, advanced search capabilities that allow you to search by product and filter against certain attributes, social sharing,  a savings calculator that shows how much you've saved throughout the year and integration with Trip Advisor and Uber. In addition to all the offers in the printed books, the App includes access to even more exclusive offers added each month, which includes brunches, new restaurant openings and special promotions.
"Our 2016 products are the best yet with more fantastic merchants joining us this year, providing our customers with unbeatable value on a wide range of dining, nightspots, activities, attractions and hotel accommodation,"  said Donna Benton, founder and CEO of the Entertainer. "The savings in South Africa are better than ever and we're pleased to launch More SA and give our South African customers a more targeted range of travel offers to enjoy throughout the country.

The ENTERTAINER App is available to download for free from the App Store, Google Play and Samsung Apps websites – with a selection of offers available to redeem free of charge.