Two creatures met in the woods. At first their bond was unnatural, their instincts mysterious to one another. However an unspoken curiosity led them through the trees where they discovered a sandy paradise, lapped gently by the cycles of the moon. It was here that they unified, lost in one another and the synchronicity they felt, moving their bodies to the waves of sound that enveloped them…
Welcome to the first chapter of KD SEASON X. It all begins on the sandy shores of the forest of Kogel Bay!
Live by the SUN… Love by the MOON!

LINE UP
ERIC VOLTA (BERLIN)
(My Favourite Robot / Visionquest)
www.facebook.com/ericvolta
www.soundcloud.com/ericvolta
Cosmic, psychedelic & extraordinary, Eric Volta's music is as far out as the man behind it. The architect responsible for one of 2013's biggest records – 'Love Your Illusion' has a unique story to tell. One that is backed with years of hard work and a humbling attitude that has invited people and circumstances into his journey that have lead to this moment.
Supporting Acts
12:00 REBEL CLEF
13:30 CTRL ROOM
15:00 B_TYPE
16:30 KHUBU
18:00 BLACK BOOK
19:30 KANAN K7
20:30 KILLER ROBOT
22:30 ERIC VOLTA (BERLIN)
(My Favorite Robot / Visionquest)
00:30 DOGSTARR (JHB)
LOCATION
YES ! We are back at the most beautiful concert venue we ever came across 🙂
Kogel Bay Beach Resort
Distance: 65KM from Cape Town.
Travel Time : 35 – 55 minutes driving from CBD depending on the traffic.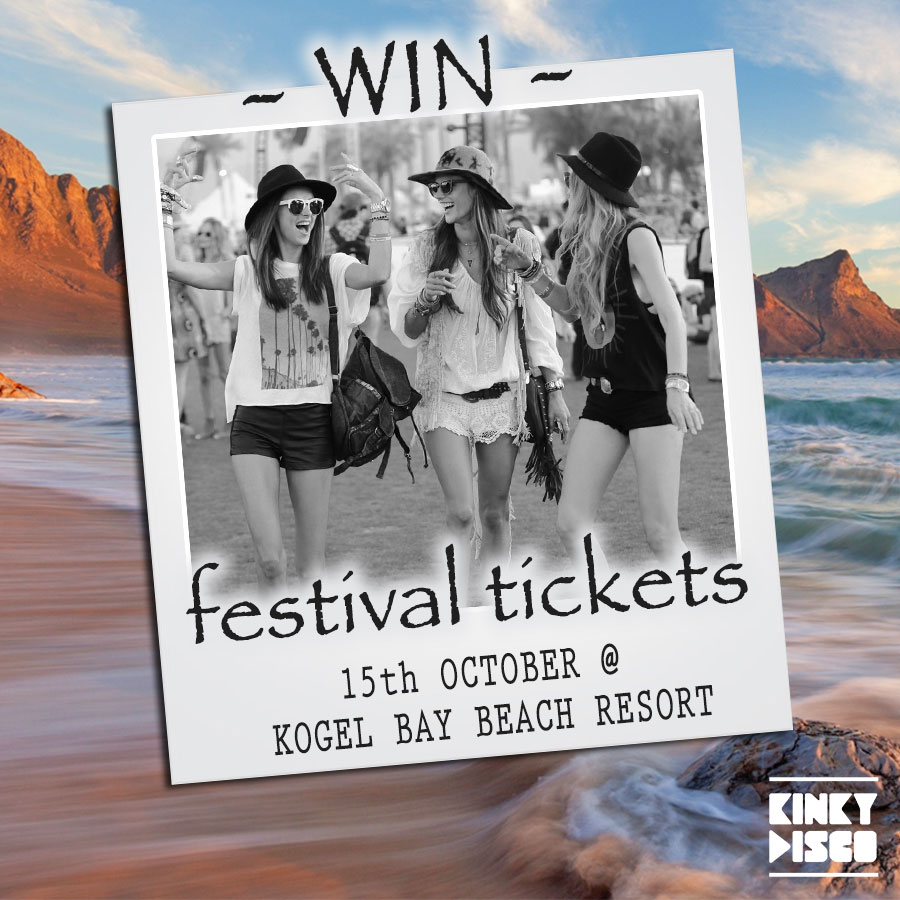 COMPETITION TIME!
I have a set of double tickets to give-away to this epic event, at one of the best venues on the annual outdoor calendar! Here's how to enter below:
Like or Share this blog post competition.
Make sure you are a fan of Kinky Disco and my Mr Cape Town Blog on Facebook.
Head over to this [wall post] on my Facebook Page and follow these simple steps. Like and share the post, tag your party partner you want to join you, and tell me which acts you are most keen to see LIVE?
For an additional entry Tweet the following below:
Follow @MrCPT and visit his COMPETITION below. Stand to WIN 2 tickets to #KinkyDisco feat. @EricVolta worth R500! bit.ly/2dImQgn
WINNER will be announced on Friday 14 October 2016
IMPORTANT INFORMATION
The ocean here is renowned for extremely strong currents and shark attacks. We will have several lifeguards on duty but be smart and careful. Do not swim unless you are sober and able to.
PARKING IS LIMITED
Car pooling is essential. In order to encourage our guests to car pooling, additional fees will be charged.
3 or more people in 1 vehicle : FREE
2 People: R75
1 Person : R150
Any amount collected, it will be donated to the local community living and working at Kogel Bay Resort.
DIRECTIONS
Take the N2 from Cape Town.
Take the Gordon's Bay turn off to the right before Sir Lowrys Pass.
At the T-junction left on the R44.
Enjoy the most incredible scenic route.
Look out for Whales (SAFELY)
In about 8km you will see KOGEL BAY RESORT on your right hand side.
GPS COORDINATES
34°14'10.00″S
18°51'6.44″E
BRING ALONG
SUN SCREEN
HATS / CAPS
SUNNIES
BEACH BAT BALL
SWIM WEAR
TOWELS
CASH (NO ATM AT THE VENUE)
YOUR BEST ATTITUDE
EXPECT
ENGINEERED DESIGNED MUSIC STAGE
TOP OF RANGE D&B SOUND SYSTEM
FULLY CATERED BAR
ENGINEERED DECOR
CHILL ZONE
FRIENDLY SECURITY
OCEAN
FOREST
BLOWN AWAY VIEWS
A GRADE SERVICE
FOOD
Come Hungry – Expect a large variety of gourmet food provided by our prime food trucks.
TICKETS
Tickets are Limited
Early Bird – – – R200
Kinky Bird – – R240
Late Bird – – – R280
Door (If Available) – R320
Shuttle Service – R110 Return
Buy Tickets Here : http://kinkydisco.nutickets.co.za/X
Pick UP and Drop OFF Location:
Sea Point Old Library. Corner of Three Anchor Bay Road with Green Point Main Road.
Leaving Sea Point : 12:00 – 15:00
Returning to Sea Point : 23:00 – 02:00
Shuttle Service is only available for those with a valid Shuttle Service Ticket.
CAMPING
Want to enjoy your party to the fullest without the worries of driving back after a long day / night? Extend your stay at the Kogel Bay Resort, its safer and you will wake up to an incredible view. The campsite is right next to the our event area. Book your camping plot directly with the Kogel Bay Resort. Each camping plot cost R149 and sleeps 6 people.
For reservations please call: 021 856 9623
DISCLAIMER
Kinky Disco Festival and its organisers take no responsibility for loss or damage to vehicles or private property during the festival.
The promoter shall not be responsible for death, injury, disease or loss caused to any person or to his servant or agent at the venue.
Persons entering the Site hereby consent to having their images, videos, writing or biographical information reproduced in the media for editorial, educational, promotional, publicity, advertising or any other purpose.
NO UNDER 21's
RIGHT OF ADMISSION RESERVED
DON'T DRINK AND DRIVE.