Close your eyes and imagine yourself surrounded by palm trees, calm seas and exotic creatures. At the height of summer, there's no better place to escape to than the sultry shores of some faraway beach. And so, on the 27th of December 2016, we invite you to Enter the Tropics…
For the final chapter in our 2016 Sexy Groovy Love story, we return to the safe haven of Rhebokskloof Wine Estate, with a twist! Expect surprises at every turn as we transform the space into a tropical utopia worthy of any daydream. From craft bars to boutique food stalls, you are sure to find something that satisfies your soul. Explore the intricacies of the space we have created for you to a soundtrack of local and international delights. Our aural adventure culminates in the bewitching beats laid down by French producer and DJ, Worakls.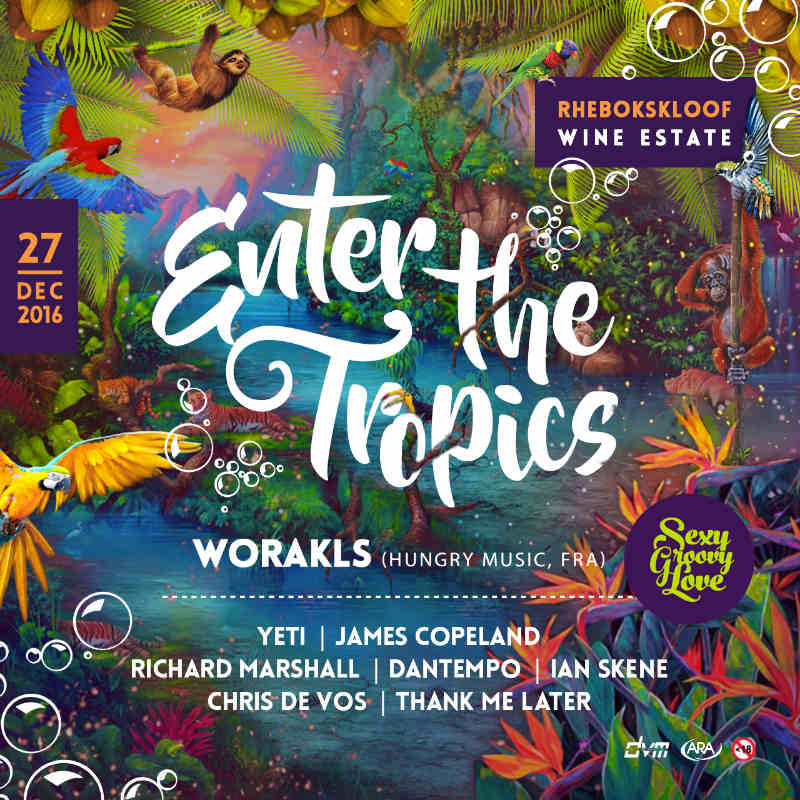 As we bid farewell to an exceptional year of new experiences, friendships and sounds, we look forward to welcoming the new year surrounded by those that matter the most! Claim your spot on the dancefloor. Share in the unabandoned joy that resonates through the crowd as we come together for the last time this year. Let's make it count!
TICKETS!
Tickets are available in 3 phases. Rhebokskloof Wine Estate has a limited capacity. Tickets are available from www.sexygroovylove.com
Phase 1: R280 (SOLD OUT)
Phase 2: R330 (limited and available until 20 December 2016)
Phase 3: R380 (Limited and available until event day or until sold out)
 Love Bus tickets are available for R115 each. These return tickets leave from Sea Point library at midday, and return to the same location at 00:30.
You will not be able to purchase tickets at the door.
THE GROOVE GUIDE
Worakls (Hungry Music, FRA)
Soundcloud: https://soundcloud.com/worakls
Facebook: https://www.facebook.com/worakls/?fref=ts
Youtube: https://www.youtube.com/user/worakls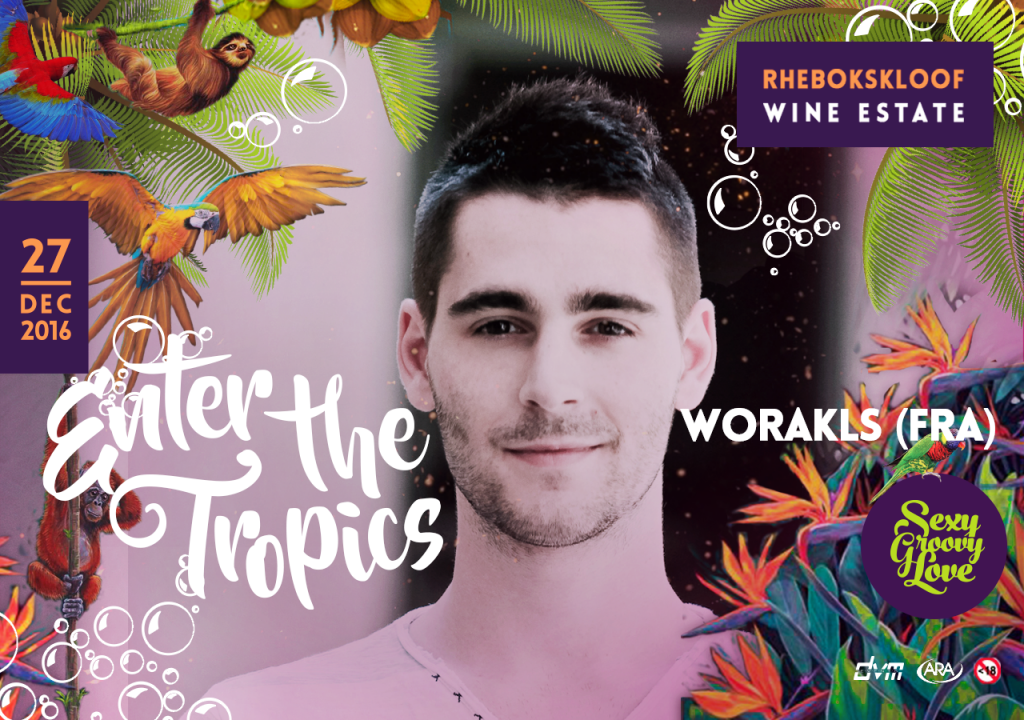 SUPPORTING ACTS!
DanTempo
Get into the groove by watching the aftermovie from Sexy Groovy Love: Into the Jungle which took place at Rhebokskloof Wine Estate in March this year: http://bit.ly/IntoTheJungleAftermovie
Sexy Groovy Love is a strictly Over 21 adventure. Doors open at 12:00, and the festivities end at 00:00.
SEXY GROOVY LOVE SOCIAL MEDIA DETAILS
Facebook: https://www.facebook.com/sexygroovylove
Instagram: @sexygroovylove
The Groove Guide: https://soundcloud.com/thegrooveguide
Event Link: http://bit.ly/EnterTheTropics
VENUE DETAILS
Rhebokskloof Wine Estate
Map: http://bitly.com/rheboksmap