This summer, Skinny Scoop has launched a first of its kind sugar-free protein ice cream. The heavenly creation unlocks a new way of living by combining the perfect combination of decadency and innocent indulgence. The dark and desirable design along with the quirky flavour characters, Vanilla Camilla and Afterdark Cacao AKA Donatella, embodies their flare of not following the norm. The tempting treat contains only the highest quality natural ingredients, making the sexy and seductive tub design the only 'naughty' thing about this ice cream.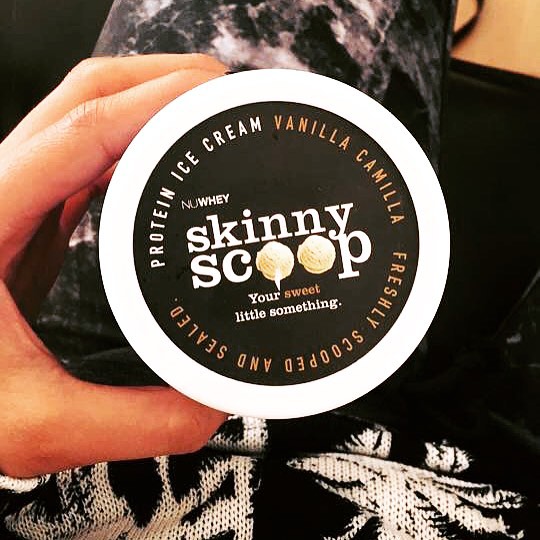 Skinny Scoop was born when Co-owners and Directors Jarred Plu'g and Gabriella Esposito discovered their common health and fitness interests. "We wanted to combine my expertise from personal training and Gabriella's baking knowledge of the delectable world of dessert, to create a product that satisfies those late night and everyday cravings, but at the same time keeps you healthy and fit," says Jarred.
Skinny Scoop retails at R34,99 for the 175ml tub and R89,99 for the 500ml tubs, and can be found at various retail outlets in and around Cape Town. For more information, visit their website www.skinnyscoop.co.za or follow them on their social media channels: Twitter: @skinnyscoop |Instagram: @skinnyscoopsa | Facebook: facebook.com/SkinnyScoop
Celebrate Valentine's Day with Skinny Scoop's delicious ice-cream hearts! Here's the delicious recipe below!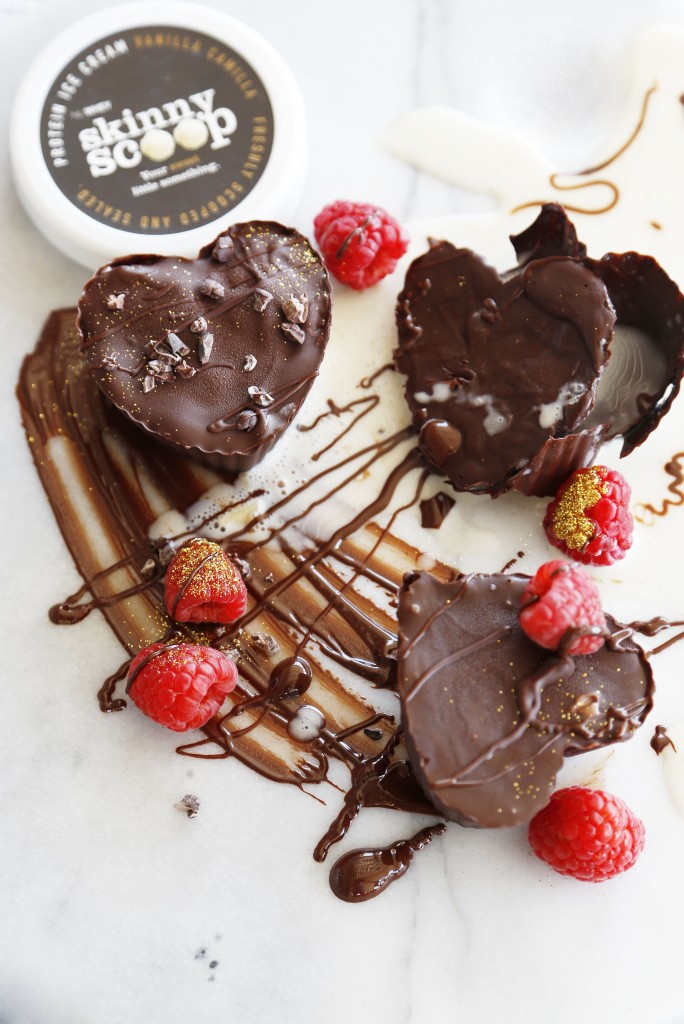 Serving Size:
Two to Four people.
Ingredients:
1x 175ml tub Afterdark Cacao protein ice-cream
1x 175ml tub Vanilla Camilla protein ice-cream
100g dark chocolate
1 tsp raw cacao nibs (optional)
A few raspberries to serve
Gold dust to serve (optional)
Method:
1. Melt chocolate in the microwave, remembering to stir it at 20 second intervals to avoid burning.
2. Using some silicone heart moulds (we found ours at Banks), pour some of the chocolate into the mould and, using a spoon, spread to cover the inside of the mould with chocolate. Place into fridge for 10 minutes to hard.
2. Take Skinny Scoop out of the freezer and allow to sit at room temperature for 5 minutes.
3. Remove chocolate covered moulds out of the fridge and fill two of them with Vanilla Camilla protein ice-cream and the other two with Afterdark Cacao protein ice-cream. For an added texture, add some raw cacao nibs to the ice-cream.
4. Cover the ice-cream filled chocolate moulds with the rest of the melted chocolate for form a seal. Place in the freezer for an hour or until ready to serve.
5. Serve with some fresh raspberries, melted chocolate and a sprinkle of gold dust.