Old Town Italy are elated to be hosting La Dolce Vino in conjunction with Morgenster Wine Estate on 27 May 2021.
Indulge in a 4-course authentic Italian dinner menu, carefully paired with immaculate wines from the Morgenster wine farm, located in Stellenbosch and of Italian origin.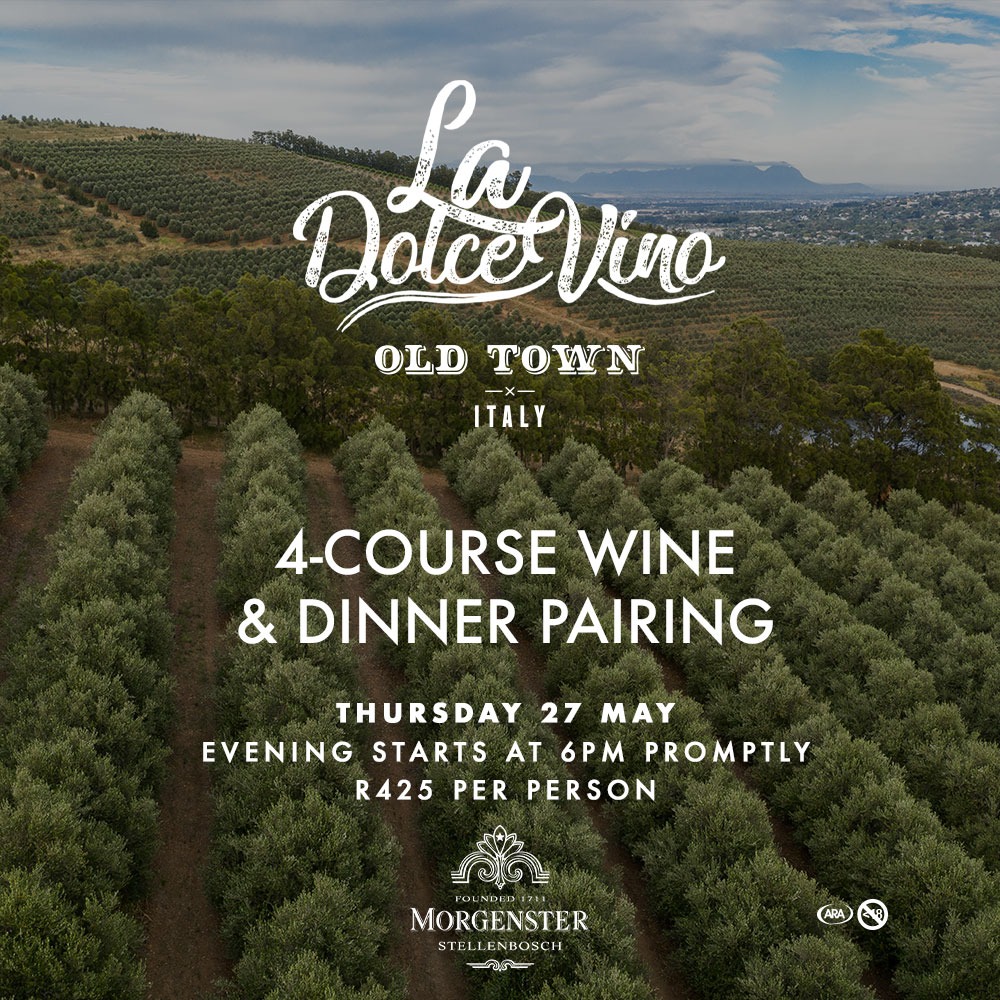 The evening begins promptly at 6pm. Prepare to be taken on a culinary journey, guided by a guest speaker from the wine farm as well as live entertainment to compliment your dining experience.
Full Menu & Pairings
BRUSCHETTA AL POMODORO
Black Garlic Rub Grissini Topped with Al Pomodoro
Morgenster Sangiovese Rose
CICCHETTI
Calamari Fritti Caprese Salad
Heirloom Cherry Pomodoro Caprese Salad with Calamari Fritti Tubes, Basil Pesto and Bocconcini Balls
Morgenster Vermentino
SECONDI
Short Rib
Braised in Sangiovese and Pomodoro
With Creamy Parmigiano Reggiano Polenta and Pomodoro Mostarda
Morgenster Nebbiolo (Nabucco)
DOLCE
Vanilla Bean Gelato
Drizzled with Morgenster Lemon-Infused Olive Oil
And Short Bread Crumble
Morgenster Cuvee Alessandra
Tickets are R425 per person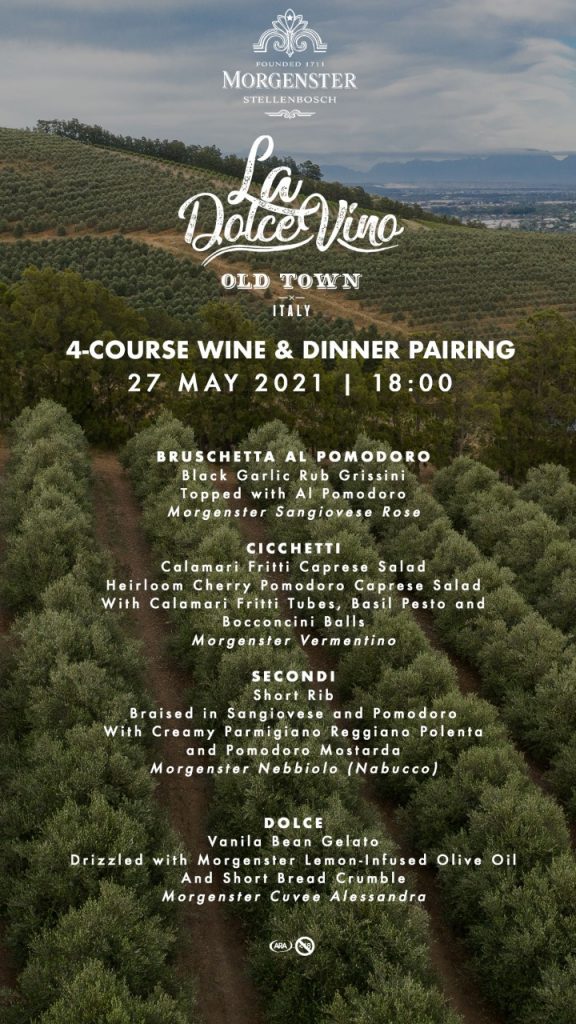 Bookings Are Essential
Melrose Arch
gm-melrosearch@oldtown.co.za | 010 109 8632
https://bit.ly/33aPOvK
Menlyn Maine
gm-menlynmaine@oldtown.co.za | 012 348 2802
https://bit.ly/33cGPKt
Umhlanga
gm-umhlanga@oldtown.co.za | 031 566 5008
https://bit.ly/3nOEWgr
High Constantia
highconstantia@oldtown.co.za | 021 569 3784
https://bit.ly/3xGHbHg
Village Square
villagesquare@oldtown.co.za | 021 569 3727
https://bit.ly/3xCYfOt