International superstars Dash Berlin, KSHMR and DJ Snake will join the previously announced headliners David Guetta and Martin Garrix on the ULTRA SOUTH AFRICA main stage in 2017. Support from the likes of Black Coffee, Felix Jaehn, Headhunterz and Nic Fanciulli round out the highly anticipated Phase Two lineup for ULTRA South Africa.
DASH BERLIN is no stranger to ULTRA South Africa; this Dutch trance veteran has been contributing to the international scene for over a decade. He's worked with icons such as Justin Timberlake, Usher, N.E.R.D. and Lenny Kravitz to name just a few. His performance on ULTRA South Africa's main stage in 2016 blew the crowd away; expect Dash to bring energy levels to a peak at ULTRA in February.
KSHMR (pronounced Kashmir), real name Niles Hollowell-Dhar, was awarded "The Highest New Entry" on DJ Mag's Top 100 DJ list, and has since moved up 11 places this year to the No.12 spot. As a producer, he's one of the world's best and most loved, but as a live act he takes things to a whole new level.
DJ SNAKE is the French DJ and record producer stunning the dance music world with his ability to create smash hit after smash hit. He most recently launched his first studio album 'Encore' featuring collaborations with icons Justin Bieber, Skrillex and more. DJ SNAKE was also behind one of the biggest and most iconic soundtracks of this generation, his collaboration with Major Lazer – "Lean On". Expect to hear a range of unreleased future hits from Snake's performance at ULTRA South Africa.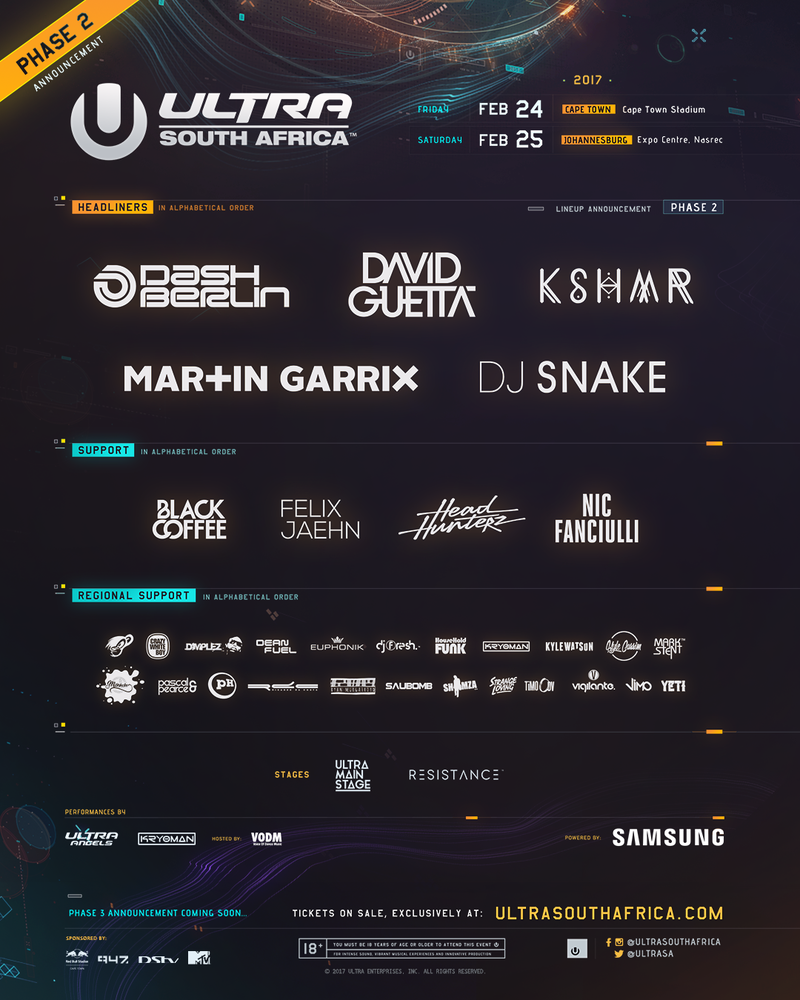 The eclectic support lineup is packed full of international superstars including HEADHUNTERZ, real name William Rebergen, the Dutch DJ who is known for his hard hitting, energetic sets and who has worked with previous ULTRA South Africa artists like W&W and Krewella. HEADHUNTERZ will be shaking up the sound with his banging big room set in Cape Town and JHB.
Next up, FELIX JAEHN, the prodigal German tropical house DJ and producer that went number 1 in 20 countries with his remix of OMI's cheerleader, will bring a summer sound to SA that that will surely get the girls dancing and the boys smiling.
ULTRA South Africa will also be bringing the RESISTANCE stage back, with its deep and grimy sound for those that like to get down and dirty….
NIC FANCIULLI needs little introduction after completing a truly successful RESISTANCE world tour in 2016 with ULTRA Worldwide. Anyone who watched him on the RESISTANCE stages around the world or was at the legendary Space Ibiza closing party will know exactly how good this British DJ and producer is at getting a dance floor going, and keeping it going long into the night.
Joining Nic on this year's RESISTANCE program is BLACK COFFEE. Undoubtedly South Africa's proudest current export, he started his career around 1995 and since then has played at P Diddy's house party in Miami, taken home gold at the DJ Awards in Ibiza, remixed Avicii's 'Lay Me Down' and much, much more. Expect him to bring his magical A-Game to the stage; something that Ultranauts will remember long after the festival is over.
The local support act line-up is a who's who of South Africa's top talent including:
TIMO ODV
PASCAL & PEARCE
DJ FRESH
EUPHONIK
CRAZY WHITE BOY
P.H
DJ MILKSHAKE
DJ SHIMZA
VIGILANTE
DJ DIMPLEZ
KYLE WATSON
STRANGE LOVING
MARK STENT
RYAN MURGATROYD
VIMO
CHUNDA MUNKI
KYLE CASSIM
YETI
DEAN FUEL
HOUSEHOLD FUNK
SAUBOMB
RICARDO DA COSTA
Plus even more local artists to be announced closer to the February 2017 event. The ULTRA ANGELS will also be returning to beautiful South Africa to grace the stages with their hypnotic dancing and gorgeous costumes.
So, in summary, ULTRA SOUTH AFRICA 2017 is bringing 35 top quality artists from around the world to perform over 2 days in 2 cities, on 3 stages per city to tens of thousands of screaming fans at each show!
Tickets are now on sale at https://ultrasouthafrica.com/tickets/.
JHB:
Early bird (limited): GA: R650 (SOLD OUT)
Tier 1: GA: R800
Tier 2: GA: R950
Early bird (limited): VIP: R1000 (SOLD OUT)
Tier 1: VIP: R1400
Tier 2: VIP: R1800
Tier 1: VVIP: R3000
Tier 2: VVIP: R4000
CPT:
Early bird (limited): GA: R650 (SOLD OUT)
Tier 1: GA: R750
Tier 2: GA: R850
Early bird (limited): VIP: R1000 (SOLD OUT)
Tier 1: VIP: R1300
Tier 2: VIP: R1600
BOOKING FEES APPLY TO ALL TICKETS.
EXCLUSIVE TO CAPE TOWN : Tables and bottle service will be available on enquiry, and available exclusively to VIP ticketholders. For more information, please email ultravvip@cococpt.co.za. Follow ULTRA SA on Facebook and Twitter for real-time updates on artists, tickets and festival updates.