I am sure some of you have seen Kerry-Lee around Cape Town, most likely hostessing at Cafe Caprice in Camps Bay or out on the jol. If you haven't and you have been down to Caprice, she is the feature of the brand new Absolut Vodka mural that graces the walls of the groove bar! So now you know who I am talking about I'm sure… If not, this is her in the new mural below.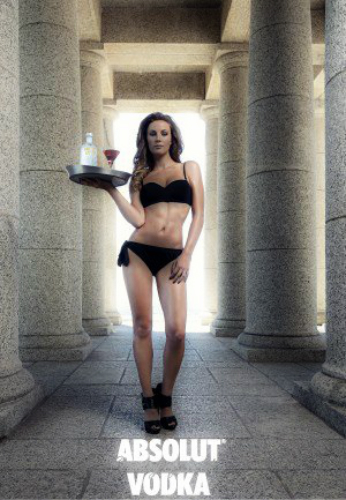 ABOUT:
Hometown: Cape Town
High School: Milnerton High
Eyes: Blue
Hair: Brown
Birthday: 8 May, 1990.
GALLERY:
[nggallery id=34]
I will be doing an interview with Kerry-Lee next week, if you are wondering she is part of FanJam Models! She modeled under Zone, London whilst she was travelling overseas and I have a feeling she is going to have a bright future in the SA modeling scene. She isn't only a pretty face either, she's one of the most down to earth chicks you will ever meet. What you see is what you get kind of vibe. If there are any questions you want me to include in my interview with her next week, just post them in the comments section below. Keep it clean please, you dirty bastards!