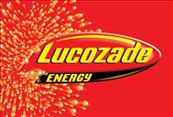 Lucozade may just as well have as much sugar as Vitamin Water, but they do not market themselves as a health product. This carbonated sports/energy drink is produced by GSK, a big player in the pharmaceutical market. Lucozade was originally produced by a chemist in 1927 and the brand has grown rapidly to become one of the leading sports/energy drink brands on the planet!
I habitually purchase the apple or orange flavours of Lucozade either to aid my hangover, or to replace electrolytes that were lost during sickness. Lucozade charges a premium price for their products and you should expect to pay between R10-R14 for a 330ml bottle. A few days ago my bra Calvin got me one from the shop, but it seemed something was different? Indeed it was; Lucozade finally released the new plastic packaging that they use in London, in South Africa.
I have always been a huge fan of the product and purchase between 1-4 every week. I am now getting to the stage where I would love to organise a sponsor, or some free produce from this great brand! If anyone knows any big players at GSK please do let me know, because I was born to consume this mouth watering greatness! My friend Rene has just informed me that they get a cherry flavour over in London. Now my question to GSK and Lucozade, when on earth is the new cherry flavour going to be released in South Africa?