My favourite party on the annual trance calendar is bringing the heat this December with FOUR International acts for their 14 hour day party at the Cape Town Ostrich Ranch. Renowned for their progressive style psy trance beats, great crowd and insane 3D mapping stage setups, Love & Light never ceases to amaze!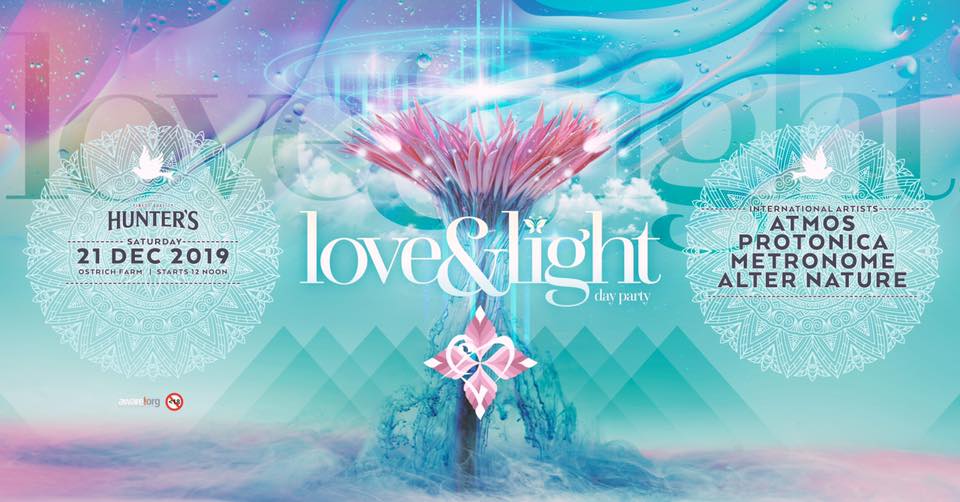 Headline Acts
Love & Light are proud to announce that tickets are on sale now.
Ticket link: https://musicpeople.howler.co.za/events/3733
METRONOME

Swedish sensation, Metronome began producing music in early 2000 and quickly established himself among the progressive acts in Sweden and Europe. After releasing a variety of singles on Jum-Jam Records, ZMA Records, Groove Zone and finally Spin Twist Records in 2007, he decided to take a break from the music scene.
During the following years, a lot of experimenting went on to develop a new modern sound to keep up with the ever-changing progressive scene. The result is a melodic and groovy sound, inspired by ground breakers like Phaxe. This became the transition from hard offbeat to a melodic and emotional style, well suitable for a sunny festival afternoon.
In 2013, Metronome set out for a comeback and got signed by Blue Tunes Records, where he released his debut EP "Rise Above". This definitely marked a new start and the debut was followed by six more mind-blowing EP's along with various singles up to this day.
He has also been working extensively on collaborations with world-class artists like Morten Granau, Eddie Bitar, Ranji and Jacob, as well as remixing tracks from upper.
PROTONICA

Protonica are Berlin based duo, Piet Kaempfer and Ralf Dietze. With Piet's intuition for harmonies as a skilled pianist and certified sound designer, Ralf's feeling for propulsive grooves, Protonica deliver a unique positive and pulsing sound – blending psychedelic and progressive trance blending. The "Refresh" and "Northern Storm" EP was a milestone for the talented duo. In 2012, Protonica released their second album, "Form Follows Function" another masterpiece after their debut "Search" from 2007.

Their energetic live sets have already contributed to making events a success all over the world, including the likes of Boom Festival, Ozora Festival, Universo Paralello, Rainbow Serpent, Indian Spirit Festival, Atmosphere Festival and Groove Attack.
http://soundcloud.com/protonica

ATMOS

It all started in the early seventies when a young boy watched television for the first time. Instantly fascinated by different soundtracks and jingles, a deep interest for music was born. Tomasz decided to produce his own music and thanks to his natural talent, he released his first single in 1996 on Pablo Gargano's label, EVE records. It sold very well and gave him both zest and confidence to strive for more.
His influences from electronic and ambient-rock music like JM Jarre and Pink Floyd quickly formed a style that was to make him one of the most successful producers in hypnotic and atmospheric trance. Under this trademark, Atmos had released three albums, loads of singles and has countless appearances on compilations but more importantly – his music has been embraced, played and loved by such a broad spectrum of people; ranging from the top 10 djs to aspiring djs all over the world. Tomasz has also been touring the world for well over 12 years now with great success. His sense for merging rhythm programming with delicate strings into a well-produced groovy sound is guaranteed to make everyone get down to the dance floor and that has made him a big fixture on lineups around the world.
ALTER NATURE
Alter Nature is André Jonsson from Stockholm, Sweden. With over 2 decades of producing music, hundreds of gigs and countless releases on big labels, one can clearly say that André has had a real musical journey. He started making music on Playstation 1 on a DAW called simply "Music" at the age of 12 and got hooked into producing, wanting to learn everything about it. After experimenting with Drum & Bass, Ambient and Techno, all the way to Gabber/Hardcore he later discovered Psytrance in 2003 and fell in love with it straight away.
In 2006 André got his first gig, playing only the music he produced himself and got an amazing response from the crowd, at that time it was a faster and more psychedelic oriented style of music under the alias "Bohemica". It didn't take long until he got booked to play at the biggest events in Sweden, making him a well-known name in the Swedish Psytrance scene.
In 2012, André got signed as an artist on the hugely famous progressive-label "Spin Twist Records", home of big names like Neelix, Day Din, Audiomatic, Fabio & Moon and many more.The first EP released from Alter Nature was almost a small album containing 2 remixes of the legendary Swedish act Vibrasphere and 4 original tracksand the EP was called "When The Road Met The Sky".
At that time Alter Nature´s music started to spread to all the corners of the world and he got his first gigs outside of Sweden and his music started to show up in the charts and more people gave him recognition.
Today Alter Nature has played at festivals such as Indian Spirit, VuuV and Airbeat One just to name a few, and has released over 10 EP´s and is featured on more than 70 compilations on some of the biggest labels in the scene such as Spin Twist, Blue Tunes, Iono and Iboga.
http://soundcloud.com/alter-nature

Event Times

12PM – 2AM
Ticket Prices
Early Lover – R300 (Limited)
Lover – R350
Late Lover – R400
Venue
Cape Town Ostrich Ranch
Please Note
Love & Light is over 23 for guys and over 21 for girls.

PLUR