I haven't know Don personally for all that long, but he was introduced to me by a mutual buddy who trains with him now and then. I really gained an interest in his career after his last fight with Leon Mynhardt, when he was robbed of victory! I then followed his training and career via Twitter and our mutual friend, until he became the EFC Lightweight Champion in his last encounter in the hexagon!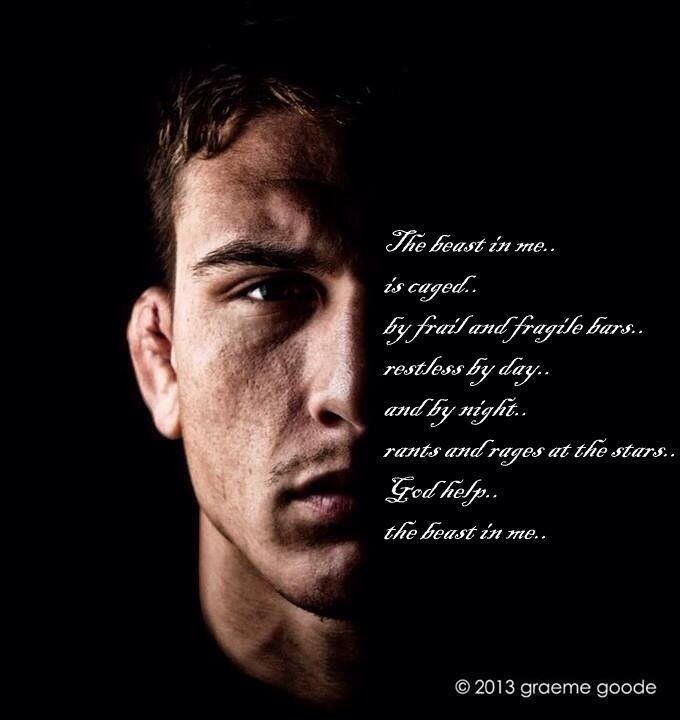 There is no doubt the guy is one of the most talented fighters in his weight class, and, I tip him to make the step up to the International UFC arena one day when the time is right! But first, it's payback time for the last time Madge vs Mynhardt took the EFC by storm… It's said to be the most anticipated fight in EFC history, and, here is the video of their first fight to show you why! It gets bloody, watch the kick Don lands with 8 seconds to go in the 1st round. WOW!
On 27 June of this year Don Madge gave Ioannou the war of his life, ending his reign with a rear naked choke in the fifth. Suddenly everything was reversed. Madge had done the impossible, he had shown the maturity and mental toughness he had been lacking in his first bout with Mynhardt, he had conquered all.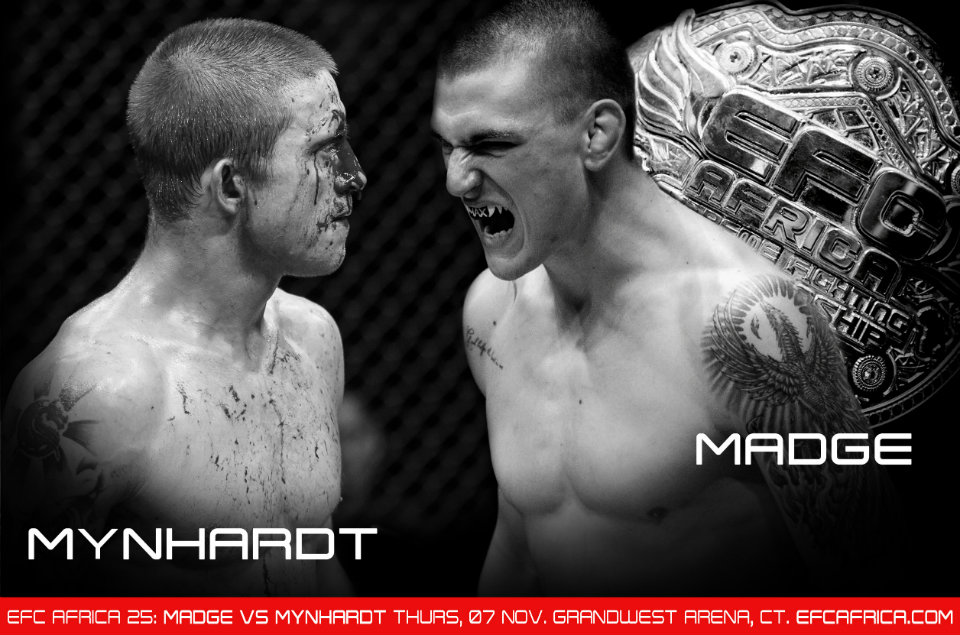 Today he is the unbeatable champion. Today he is the fighter that Mynhardt wants to be. This fight on 7 November is going to be FUCKING insane! Here's the official promo video for the fight of the decade…
At EFC AFRICA 25, when Madge and Mynhardt meet for the second time, the thread between them climaxes. Madge is intent on avenging his only loss in the Hexagon against only the second man to have beaten him in a career spanning over a hundred fights, the other a world champion. Mynhardt is looking for redemption and proof of what he has worked his whole career to be; the best. For both each is the greatest test possible, for both losing is not an option, winning is everything.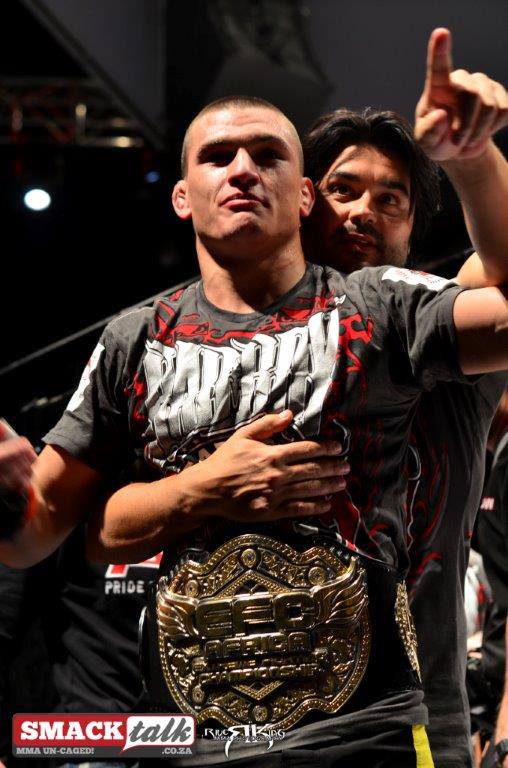 This fight is impossible to predict, it is a replaying of 2012's fight of the year and in the journey that each has taken to it could very possibly explode into the fight of the decade. At EFC AFRICA 13 these men presented an unforgettable war. On November 07 they have two extra rounds to do the same. In addition to the main event 24 more of Africa's greatest warriors go head to head in 13 bouts in total.
COMPETITION TIME!
WIN one of two DOUBLE sets of VIP tickets to the EFC 25, fight of the decade! I will be giving one set to a Facebook fan and one to a Twitter follower. Let's get ready to rumble and support our very own MANBEAST, Don Madge! Here's how to enter:
Enter On Twitter:
Follow @DonMadgeMMA and myself @MrCPT on Twitter.
Copy, Paste & Tweet:
I'm with @DonMadgeMMA all the way at @EFCAFRICA! Let me support #MANBEAST ringside @MrCPT. WIN tickets here: http://ow.ly/qk06l #EFC25
Enter On Facebook:
Like Mr Cape Town Blog [here].
Like Don "Magic Man" Madge [here].
Like EFC Africa [here].
Send a motivational message to Don Madge and his team in the BLOG comments box below! Please make sure you fill in all your correct details, as well as your email addy. I would hate you to WIN and not have your proper deets!
LIKE this article to increase your chances or winning [top left].
*Please note this does not include flights and is open to residents who will be able to get to Grandwest Arena on 7 November to watch the fight*