Jagger Eaton (Age 12) wins the BIG AIR Mini-Mega Best Trick with a 360 flip as well as the backside flip he landed both first try over the gap at the Kimberley Diamond Cup World Championship of Skateboarding in Kimberley, South Africa.
I personally don't know if this is normal, Jagger is causing a big stir in the World of Skateboarding. Eaton became the youngest competitor in X Games history when he participated in the Big Air Skateboard event in 2012. But he didn't just show up, Eaton qualified for the finals and showed that he belonged!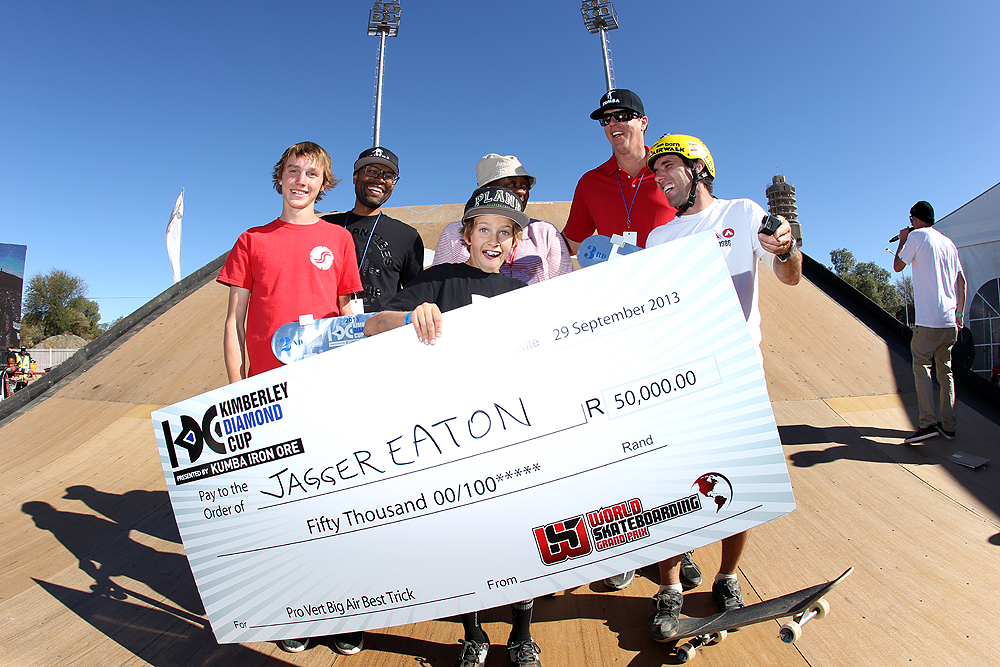 Why isn't Bob Burnquist a fan? It makes him and other household names look like bums. These meddling kids are flying down the same MegaRamp that Jake Brown almost died on in the 2007 X Games.
Kimberley Diamond Cup Big Air Results:
Jagger Eaton

– 360 flip and bs flip  –  R50 000
Jono Schwan

– bs 360 heelflip varial  –  R30 000
Andy Macdonald

– varial  lien air  –  R 20 000
Check out the rest of the action, flips, tricks and results from all the skate categories right [here]. The new KDC World Championships will be taking place annually in Kimberley until 2016. Next year I am there without a shadow of doubt! What a fucking insane kid, would love to interview him!
The Backside Flip That Won Jagger Eaton R50,000!