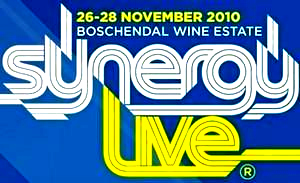 Seeing as though I have such legend mates, I am working at Synergy and getting a free ticket 🙂 Not only do I work at the bar, meet lank people (squeezer's), make nice tips and get a basic wage, but I also finish my shifts on Saturday @ 2pm! This means I have the whole rest of the time to get open with The Millers, Calv and my long lost friend Jess The Mess!
Seeing as though I have my good old pal Bavaria by my side, I will be sure to get well oiled, and then get sober for the drive home. (Actually not because I will be a passenger, but my driver will) Can't wait for the new experience and the there is one thing I am quite stoked about. I do not have to look after my form during the night waiting for Headroom, Orca or Skazi to play, because I don't really listen to rock that often. And then…I found out that there is an electronic tent somewhere in the mix and this made me smile even more 🙂
I am really looking forward to making some money outside of the office for a change and going back to my roots, the bar 😉 See you all there and don't be afraid to hit some shotguns with us, those long tom  Bavaria Draught cans can get dangerous all on my own!