The Entertainer Cape Town 2015 Launches with New Merchants and More Value Over 900 Buy One Get One Free offers can save you ZAR 800,000 in 2015.
To get your ENTERTAINER APP today for just R345 you can [click here], or if you would prefer to get the book for R395 with physical coupons for yourself, guest house or alike [click here].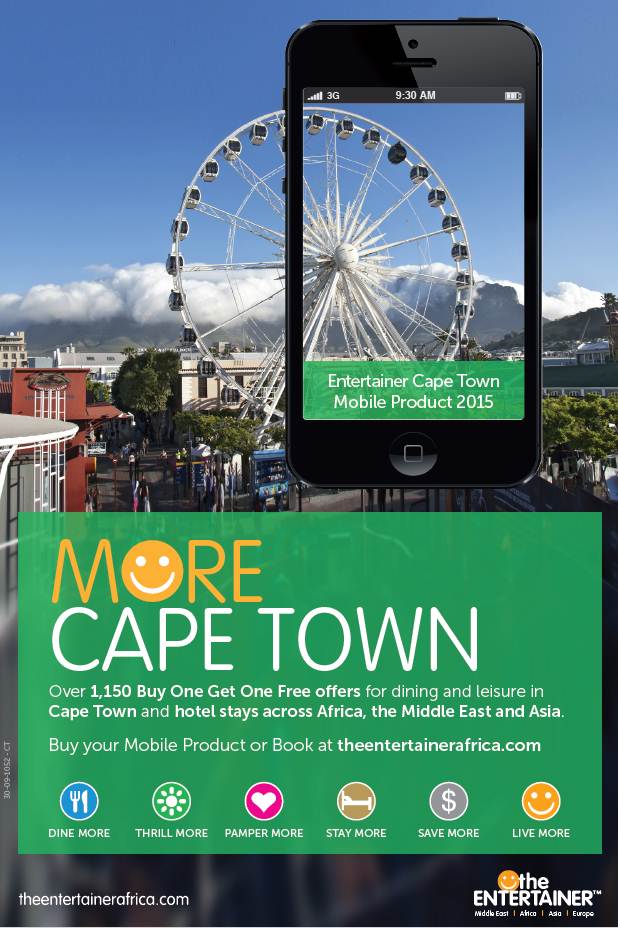 Cape Town, 5th January 2015: The Entertainer is proud to announce the launch of the Entertainer Cape Town 2015, with over 900 Buy One Get One Free offers for the best restaurants, nightspots, leisure, attractions and salons in Cape Town. Offering customers up to ZAR 800,000 in savings, the Entertainer Cape Town 2015 is the biggest and best yet. Featuring hundreds of Buy One Get One Free offers for fine dining, casual dining, cafés, nightspots, leisure activities, spas and fitness, the Entertainer Cape Town 2015 gives customers a host of options. Exciting new merchants include Moyo, Pinnacle Point Golf Course, La Boheme, Basilico, Mondiall, The Cape Wheel, Rhebokskloof Restaurant, Cheyne's, Dunes Restaurant and Big Easy Restaurant & Wine Bar. Hundreds of popular merchants are back for 2015 including De Grendel, Barristers, Sotano, City Grill, Col'cacchio, Salero, Jonkershuis, HQ, Dunes, Ginkgo Spa, Blues, Tasca, Aquila Private Game Reserve, The Lookout Deck and many more.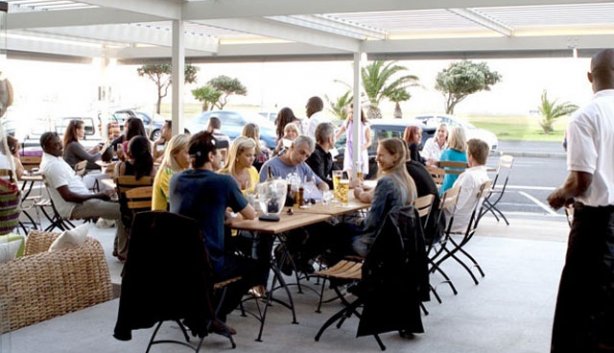 Every Entertainer Cape Town 2015 includes a complimentary copy of the Entertainer Travel 2015, which features over 250 'Buy One Room Night Get One Free' offers at leading 4 and 5 star hotels and resorts across Africa, the Middle East, Europe, Asia and the Indian Ocean. Participating partners include well- established hotel brands such as Fairmont, InterContinental, Marriott, Radisson, Outrigger and many more. Customers can choose between a printed book or the Entertainer App, which was launched last year. With over 350,000 downloads to date, the Entertainer App has proved extremely popular with Entertainer customers – offering convenient access to offers, a simple redemption process, location-based search and even a savings tracker.
I have already got my moneys worth, and even though I got the app for free as I am an affiliate with the company, it costs R345, and have saved R1,562 on shark cage diving already on Valentine's Day!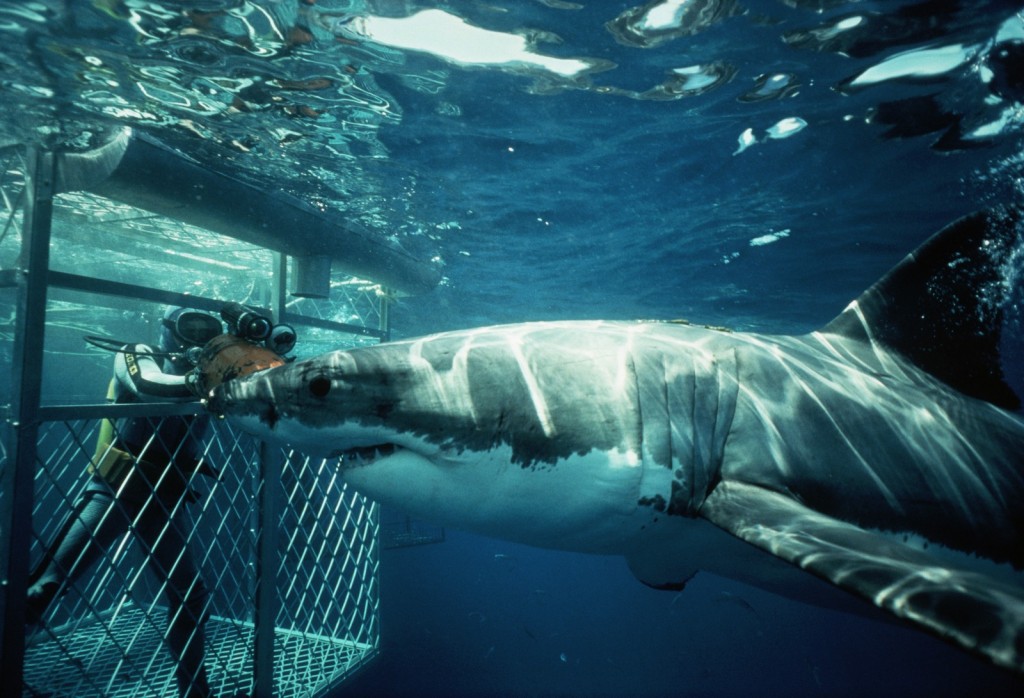 The Entertainer Cape Town 2015 includes up to ZAR 800,000 worth of savings and customers who buy before December 31, 2014 will receive a special discount through the website, saving them even more! When purchased online, the Entertainer Cape Town 2015 book currently costs ZAR 395 and the Entertainer Cape Town 2015 mobile product costs just ZAR 345.
The Entertainer's full range of 51 printed and mobile products provide buy one get one free offers to the best restaurants, activities, attractions, spas and hotels across 40 destinations throughout Africa, the Middle East, Asia, Europe and the Indian Ocean. Three products are available in South Africa – the Entertainer Cape Town, Entertainer Johannesburg & Pretoria and Entertainer Durban. To purchase the entertainer app or booklet, and save yourself a mega ton annually, click [here].
We have had such a positive response to the App from our customers and we want more people to enjoy the convenience of searching for and redeeming offers on their phones, so this year we've given the BEST price on our App," said Donna Benton, founder and CEO of the Entertainer. "With over 300 merchants the Entertainer Cape Town 2015 is our best yet, offering customers amazing savings and unbeatable value for money.
COMPETITION TIME!!!
The legends over at The Entertainer have given me FIVE of their popular 2-4-1 apps worth R1,750 to give-away to some of my loyal readers! If you don;t end up winning you can always purchase the app on my blog right [here]. I literally can't live without this thing, and will probably save over R10,000 this year because I love eating out, doing fun activities and the odd massage now and then!
How To Enter!
Like this blog post in the top left corner.
Like my blog page on Facebook [click here] and invite 5 friends who you think might like to WIN one of these apps for Cape Town, Jozi/Pretoria or Durban!
Follow both @MrCPT & @EntertainerZA on Twitter.
Enter On Facebook:
Head to this post on my Facebook Page >  ow.ly/Jjp8K
Follow the instructions in the post and you're entered. Make sure you've done all of the above mentioned entry requirements!
Enter On Twitter:
Tweet the following:
WIN 1 of 5 @EntertainerZA apps for CPT/JHB/DBN with @MrCPT and SAVE thousands this year > ow.ly/JjnO3 #EntertainerMrCPT
Winners announced on Thursday 26 February!