I saw in my Twitter timeline today that some lucky people in Cape Town were having some kind of Lion Lager Retro evening (which I was not invited to) celebrating brands past. Having studied branding myself, this is one re-branding exercise that I will never forget! My uncle was THE most loyal Lion Lager drinker you get, and, my dad having worked at SAB has told me all about the story! Therefore, whenever the brand is even whispered near me, I perk my head up to join in the conversation.
Who in their right mind changes the colours of a brand that is over 114 years old? Lion Lager was always known as one of the traditional leaders in the SA beer market, but after their horrific re-branding adventure, it was to be no more. After almost 115 years the brand was taken off the shelves as not only sales, but more so loyal Lion Lager drinkers, started changing their brands. Now wonder, how did they even recognise their favourite product on the shelf?
For those of you that don't know, Lion was always traditionally red and gold (similar to that of the Castle). In came a new brand manager who changed the brands colours (to blue and silver), design and packaging. It is said they changed the product in an attempt to attract a younger market. This did not go down well with the Lion loyalists, and rightly so. Changing a brands' colour's is a big no no when it comes to altering the design/packaging!!! Could you ever imagine McDonald's changing their colours to blue and silver? I don't think so… Don't forget that Lion Lager was also once a proud sponsor of the Bokke, as you will see from a TwitPic I have uploaded below from the Retro evening event!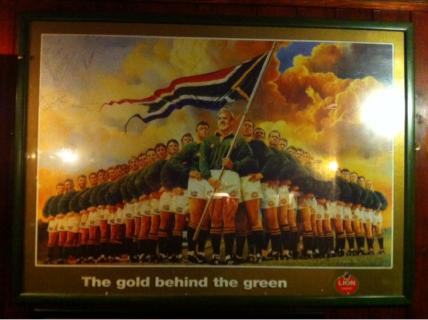 I am struggling to find a picture of the rebranded version of the product for my write up though? Did they get it all removed from the net, or was the transition so crap that they didn't even get a chance to capture the product in store, before it was taken of the shelves? If anyone finds a picture of the Lion Lager blue and silver can/bottle please send it to me at dylan2580@gmail.com! Raise your glasses to the biggest re-branding fail in the history of the SA beer industry!