I am sure by now you all know I am a huge fan of anything that involves the word extreme, along with females, music, great brands, alcohol, sun, sports and a lekker crowd! This basically sums up Ultimate X in one sentence. If you have never been, please do yourself a favour and come join me for a few cold ones on Saturday at the V&A Waterfront! The event area is where the Hyundai Fan Park was during the World Cup at the CTICC entrance!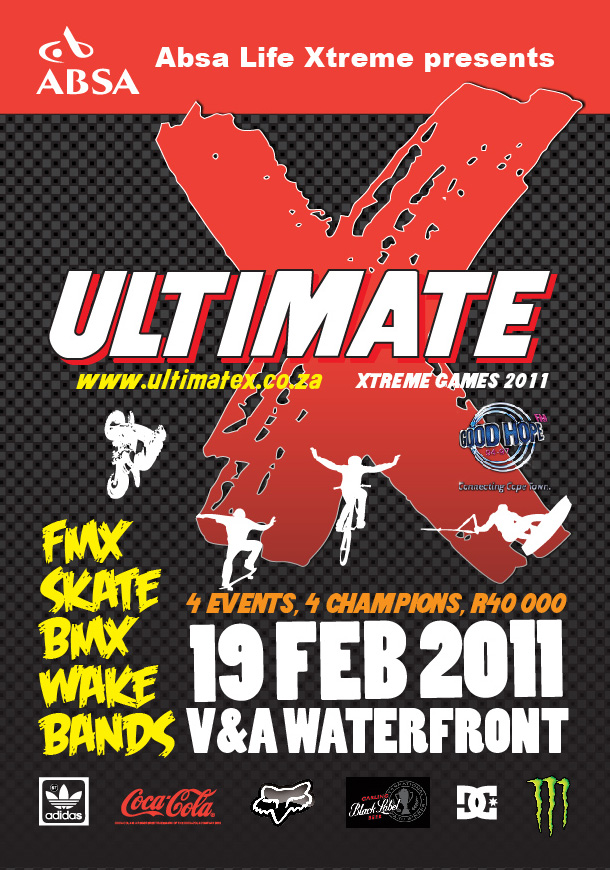 Here is a bit more information about Ultimate X if you are not familiar with the brand and what you can come to expect from this annual event: Ultimate X 2011. This year the guys at OSP Events have brought together some great brands including; Black Label, Monster Energy, DC Shoe Co, Coca-Cola, Fox Racing, Adidas and Absa Life Xtreme. Four winners, R40 000 prize money and the competition is going to be fierce! It promises to be a Hell of a jol and will definitely continue into the night at one of Cape Town's top venues, The Assembly.
The Competition
We are giving away and awesome hamper which includes some sick prizes from Adidas Originals, Monster Energy, Absa Extreme Life and Airwaves chewing gum! All you have to do to enter is visit the Ultimate X Event on Facebook and click attending, then comment on this post telling us which your favourite prize in the hamper is and why? Easy as pie.
The Prizes